Tehran Hosts Conference on Iran-Eurasia Cooperation
December, 01, 2019 - 16:19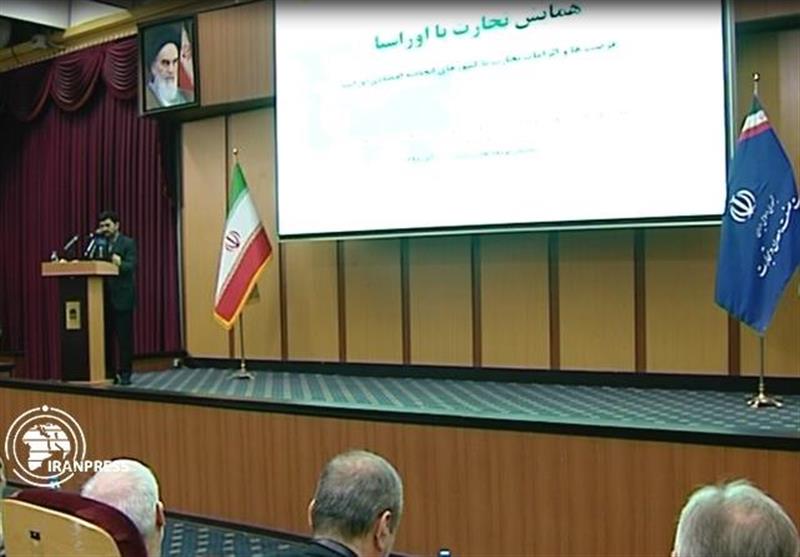 TEHRAN (Tasnim) – The Iranian capital on Sunday hosted an international conference on the country's trade and cooperation with the member states of the Eurasian Economic Union (EAEU).
The conference discussed creation of economic environments for developing trade ties between Iran and the EAEU member states, expansion of common markets and access to the free flow of goods and services, as well as joint policies in agriculture, energy, technology, and transportation.
Iranian Energy Minister Reza Ardakanian and a number of other officials, including a deputy minister of industry, mine, and trade, and a deputy minister of agricultural Jihad, attended the conference, which was held at the permanent international fairground in Tehran.
Minister in charge of Customs Cooperation of the Eurasian Economic Commission (EEC) Nurlan Akmatov and Veronika Nikishina, Minister in charge of Trade of the Eurasian Economic Commission (EEC) also participated in the event.
In June, the Iranian parliament ratified an agreement that allows the administration to join a free trade zone with the Eurasian Economic Union (EAEU) countries.
The agreement, signed in Kazakhstan in May 2018, sets the main rules of trade between the EAEU, Iran and those of the World Trade Organization (WTO), of which Iran is not a member.
The free trade zone is planned to be in effect for four years, under which the EAEU will grant Iran tariff concessions on more than 500 items.
Russia's State Duma and the Federation Council had ratified the agreement to establish Iran-EAEU free trade zone in November 2018.
The Eurasian Economic Union includes Armenia, Belarus, Kazakhstan, Kyrgyzstan and Russia. Iran and EAEU members started to develop the agreement on the free trade in 2015, though the signing was postponed several times.