Protesters Lay Body Bags outside Trump Hotel to Condemn COVID-19 Response (+Video)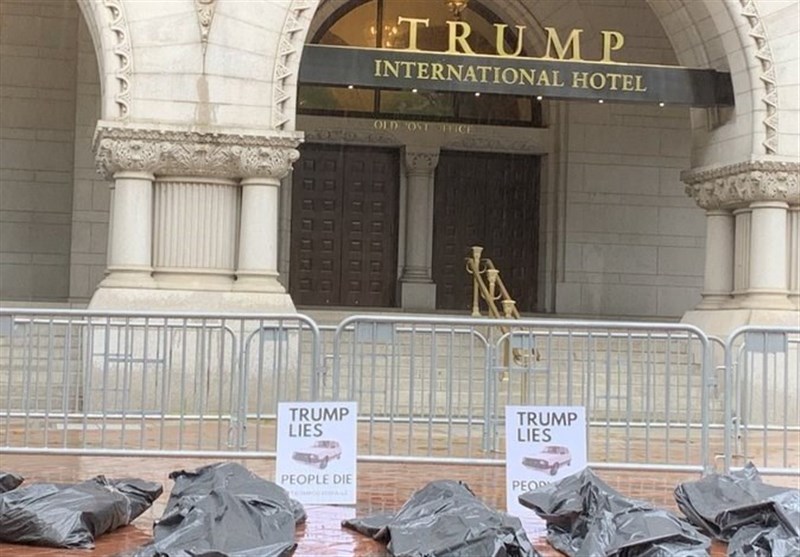 TEHRAN (Tasnim) – Demonstrators frustrated with the Trump administration's handling of the COVID-19 pandemic protested this week by laying fake "body bags" outside the Trump International Hotel in Washington, DC and driving cars in a funeral-like procession.
The "People's Motorcade" protest featured a procession of vehicles past the White House and to the hotel, with an inflatable Trump chicken making an appearance. Outside Trump International Hotel, black plastic bags filled with cardboard were left to look like victims of the coronavirus pandemic.
Aside from protesting Donald Trump's response, some in the group said they were calling for more personal protective equipment (PPE) for health care professionals and frontline workers, The Hill reported.
Those who joined in the protest were careful about social distancing, with most people staying in their cars and speeches taking place over the Zoom video conferencing platform rather than on a stage.
The protest was organized in part by the Center for Popular Democracy, according to The Washington Post.
The group's senior director of mobilization and advocacy, Jennifer Flynn Walker, told The Post the demonstrators are "angry at Trump, but mostly we're trying to save the lives of our neighbors and our friends."
"When the president lies, people literally die, especially given his most recent advice that people drink disinfectant or inject it or whatever," Flynn Walker told The Post.