Iranian, Russian Presidents Stress Countering US 'Unilateralism'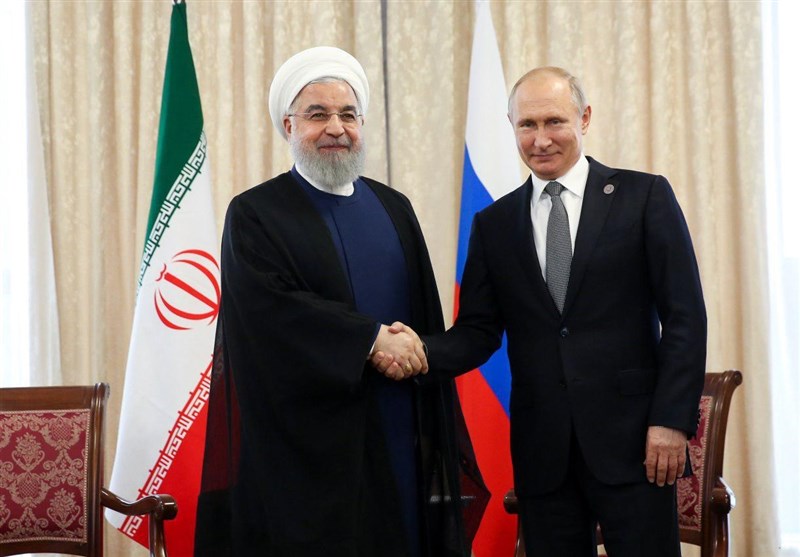 TEHRAN (Tasnim) – Iranian President Hassan Rouhani and his Russian counterpart Vladimir Putin slammed the US for seeking to extend an arms ban against Tehran, calling for efforts to confront Washington's "unilateralism."
In a phone conversation with his Russian counterpart, Rouhani highlighted the importance of the 2015 nuclear deal between Tehran and world powers and preserving it.
He called on the remaining parties to the agreement, known as the Joint Comprehensive Plan of Action (JCPOA), to confront Washington's unilateralism and put an end to the UN arms ban on Iran.
The Iranian President thanked his Russian counterpart for his support for the JCPOA as well as opposition to the US' unilateral policies.
He also called for the enhancement of Tehran-Moscow ties and cooperation in all areas, particularly in their battle against COVID-19.
Elsewhere, Rouhani referred to the holding of a virtual summit of the leaders of Iran, Russia and Turkey with the aim of establishing peace and stability in Syria, and stressed the need for continued cooperation between the three countries within the framework of the Astana process to achieve this goal, especially in humanitarian issues.
In turn, Putin called for the salvage of the JCPOA and said, "As in the past five years, we will support the international document and insist on implementing and preserving it."
He also called for the expansion of bilateral ties between the two countries in all areas, welcoming Iran's offer to share experiences on fight against the coronavirus.
The JCPOA was signed between Iran and the Group 5+1 -- the United States, Britain, France, Russia, and China plus Germany -- in July 2015. Under the deal, Iran was required to limit certain aspects of its nuclear program in exchange for a lifting of sanctions against the country and the ending of the UN arms embargo.
However, the administration of US President Donald Trump unilaterally left the agreement in May 2018, reintroducing sanctions against Tehran.
In opposition to the US policy line on Iran, the Europeans initially pledged commitment to the survival of the JCPOA, but Iran says they failed in practice to shield Tehran's interests in the face of US pressures and its so-called maximum pressure campaign.
The US is now seeking to extend an arms embargo on Iran beyond the October 2020 expiration date set out under the JCPOA.
Iran has taken a swipe at the US for its attempts to trigger a "snapback" of all UN sanctions against the country, arguing Washington is no longer a party to the JCPOA.