IRGC Fires Long-Range Anti-Ship Ballistic Missiles in Drills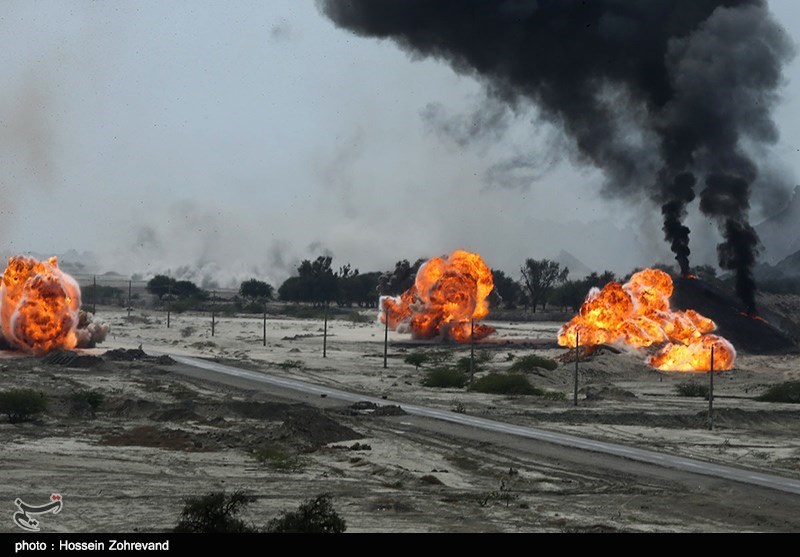 TEHRAN (Tasnim) – The Islamic Revolution Guards Corps is employing surprising weapons in a large-scale military exercise underway in southern Iran, such as long-range ballistic missiles capable of destroying hostile vessels, a commander said.
Spokesperson for Payambar-e Azam 14 (The Great Prophet) war game, whose final stage began on Tuesday morning, said the military exercise is based upon plans for fighting hybrid warfare and network-oriented combats proportional to the IRGC's offense doctrine.
General Abbas Nilforushan noted that the forces attending the drills make maximum use of telecommunication and optical devices and well as manned and unmanned equipment to exercise tactics for biological warfare.
Anti-ballistic and anti-cruise missile defense operations were carried out in the war game, he added.
The general also said the IRGC forces have used a series of "surprising equipment and weapons" in the drills, such as long-range ballistic missiles capable of hitting the intruding naval targets at a far distance.
The spokesman added that the exercise involves a large number of popular forces and Naval Basij servicemen.
The military exercise has been held in Iran's southern province of Hormozgan, western parts of the Strait of Hormuz, and the Persian Gulf.
The final stage of the war game includes joint operations by missile units, vessels and drones from the IRGC Navy and missile, drone and radar units from the IRGC Aerospace Force.
Satellite images taken by Iran's homegrown 'Noor' (light) satellite that was launched into space in April have been used to evaluate the situation in the war game zone.