Grossi Vows IAEA's Impartial Attitude to Iran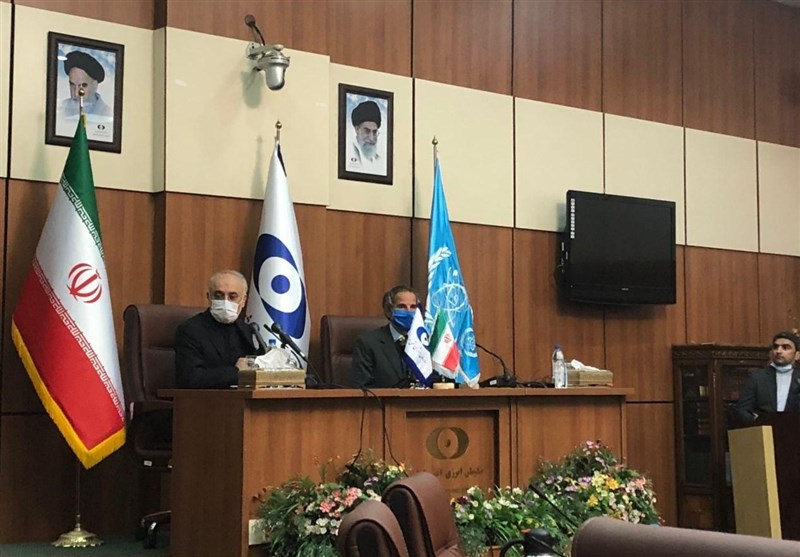 TEHRAN (Tasnim) – Director General of the International Atomic Energy Agency Rafael Mariano Grossi said the UN nuclear agency would adopt an even-handed attitude towards Iran during his tenure.
Speaking at a joint press conference with Head of the Atomic Energy Organization of Iran (AEOI) Ali Akbar Salehi in Tehran on Tuesday, Grossi said the IAEA works on the basis of standards and legal tools, not the desires of certain parties.
The safeguards agreements and protocols form the basis of the IAEA's function, he said, stressing that the UN agency will have impartial attitudes during his term.
Highlighting the continued cooperation between Iran and the IAEA, the visiting official said one of the UN nuclear agency's major cases of cooperation in the field of inspection relates to Iran.
"We have constructive cooperation and it will continue," he added.
Grossi underlined that the IAEA's judgments are based upon technical issues, not political purposes.
The UN nuclear agency has direct contacts with countries and would not allow any third party to affect the relationship, he stated.
For his part, Salehi said Iran and the IAEA are going to start a new chapter of cooperation, hoping that the results of Grossi's visit to Iran would be favorable to both sides.
"We held constructive talks, and it was agreed that the agency would keep working professionally and we would also honor our commitments," the Iranian official said.
Salehi said Iran's vigilance has thwarted the hostile plots, stressing that Tehran would not agree on anything beyond its commitments.
Grossi arrived in Tehran on Monday for the first time after taking office in December.
He had announced earlier that his discussions in Tehran would address the cooperation of Iran with the IAEA, and in particular Iran's provision of access to the Agency's inspectors to requested locations.
The Islamic Republic rejects any allegations of non-cooperation with the IAEA, insisting that it is prepared to resolve potentially outstanding differences with the IAEA.