Leader Lauds Iran's Single-Handed Battle with West, East in Sacred Defense
September, 21, 2020 - 14:59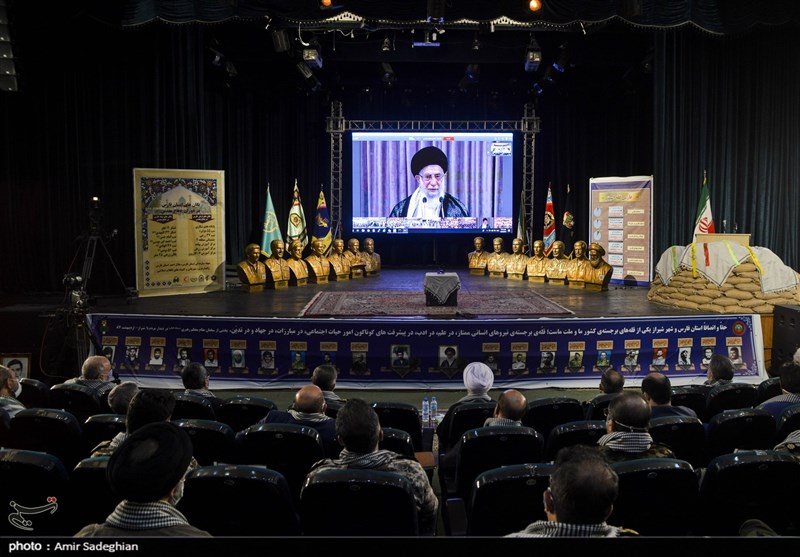 TEHRAN (Tasnim) - Leader of the Islamic Revolution Ayatollah Seyed Ali Khamenei on Monday paid tribute to the martyrs and veterans of the Iraqi imposed war in the 1980s, saying Iran could stand alone against the US, the Soviet Union and the West during the Sacred Defense.
On the 40th anniversary of the beginning of the Sacred Defense (Saddam's imposed war on Iran), Imam Khamenei delivered a videoconference speech to the participants of a ceremony honoring the veterans of the Holy Defense.
"In the 8-year war on Iran, Saddam was just a tool in the hands of big powers like the US that were seriously harmed by the 1979 Revolution, or governments that worried about the creation of a new Islamic power in the region. The USSR, some European countries and NATO were against us," Ayatollah Khamenei said in the online speech, broadcast live on national TV channels and released by Khamenei.ir.
"During the first years of the war, which were shortly after the Islamic Revolution, the armed forces weren't in good shape and we were extremely short of equipment. These persuaded the enemy to attack us. Imam Khomeini managed the war amazingly under such conditions," the Leader added.
"The US and other powers started the war to overthrow the Islamic Republic, but they were defeated. Iran's victory in this war is as obvious as the sun. The whole world used all their strengths for eight years but failed to achieve their goal," Imam Khamenei noted.
"In the wars that were fought against Iran over the past couple of centuries, Iran was always defeated and lost parts of its lands. In Saddam's war on Iran, he failed to separate even an inch of our lands even though the US, USSR, and NATO supported him," the Leader underscored.
"The 8-Year Holy Defense enriched our human capital. Numerous people who were involved in the defense later started working in various sectors. Martyr Soleimani was one example. No one has yet understood the extent of his work, and it may gradually come to be known in the future," Ayatollah Khamenei added.
"Overall, wars are cruel and violent, but the Iranian nation's Sacred Defense brought blessings too. One such was moving toward new technologies. At the start, we didn't have missiles. Thanks to our young experts' efforts, we started making missiles and became a missile power," the Leader stated.