Remains of Vehicle Carrying Gen. Soleimani Transferred to Memorial Site in Baghdad Airport
January, 01, 2021 - 14:17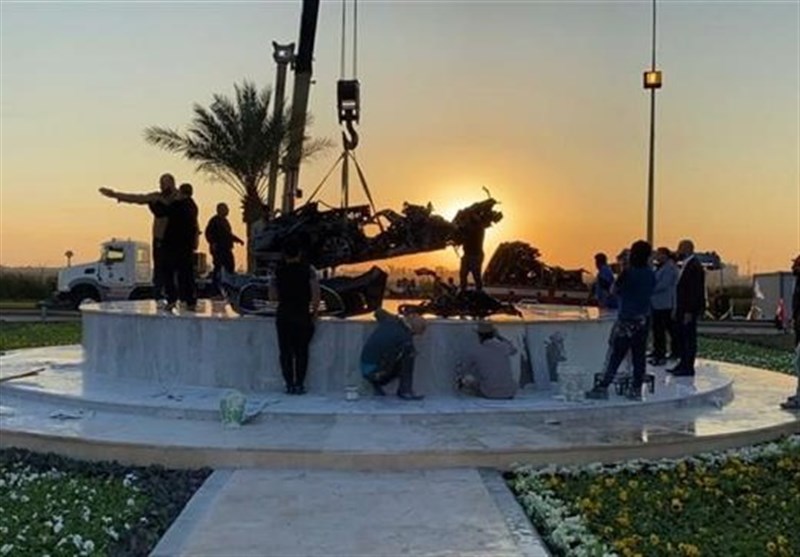 TEHRAN (Tasnim) - The remains of the vehicle that carried General Qassem Soleimani, Abu Mahdi al-Muhandis and their companions during assassination by US terrorist forces have been transferred to a memorial site in Baghdad airport.
A memorial has been built at the site of the martyrdom of the renowned commanders of resistance and fight against terrorism at Baghdad airport on Abu Mahdi al-Muhandis boulevard to be displayed on the first anniversary of the crime on Saturday night.
The memorial is the first phase of a glorious ceremony for the commanders, built with cooperation from Hashad al-Sha'abi anti-terror force, also known as the Popular Mobilization Units, and the Iraqi government.
General Soleimani was the former commander of the Quds Force of Iran's Islamic Revolution Guards Corps (IRGC). He was assassinated by a US strike on January 3, when he was on an official visit to the Iraqi capital Baghdad. Hitting his convoy, the barbaric assault also led to the martyrdom of many others, including Abu Mahdi al-Muhandis, deputy commander of Iraq's Popular Mobilization Units (PMU) or Hashd al-Sha'abi anti-terror force.
Recently, Leader of the Islamic Revolution Ayatollah Seyed Ali Khamenei vowed that those behind the assassination of the top commander will definitely face revenge whenever possible.