Yellow Vests Join Protests over Job Cuts in Central Paris (+Video)
January, 24, 2021 - 14:55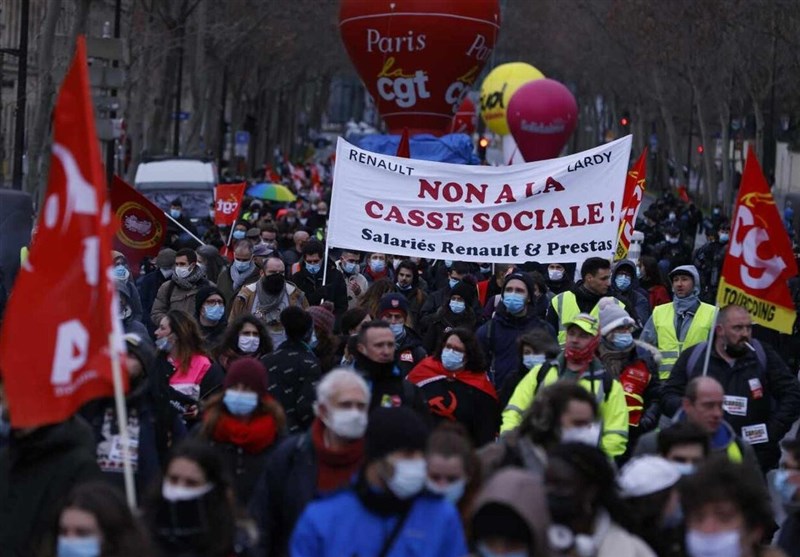 TEHRAN (Tasnim) – Yellow Vests gathered near the State Council in Paris on Saturday to march towards the National Assembly and join the demonstration organized by workers rallying against job cuts.
The demonstrators first gathered near the National Assembly building and then marched toward the headquarters of the Movement of the Enterprises of France (MEDEF).
Before joining the workers' demonstration, members of the Yellow Vest movement protested against the so-called 'Global Security Bill.'
This law, filed by MPs from the presidential party, proposes controversial measures including groundmass surveillance, air mass surveillance and a ban on documenting police action.
Anti-riot police forces promptly arrived and secured the area, walking alongside protesters during the demonstration.
Among the workers protesting were members of the hospitality sector, and several trade unions such as the CGT and the Union Syndicale Solidaires participated in the march.
Some of the workers protesting wore orange vests and helmets and marched while chanting slogans through megaphones.
"They should stop destroying companies and try to maintain jobs, especially now with COVID-19 and all the financial issues that can impact companies," said Alexandre Bouri, a protester wearing an orange vest.
According to official statistics, France's unemployment rate increased to 9 percent in the third quarter of 2020, the highest level since the same period of 2018.
Before dispersing, the protesters' procession continued towards the Medef headquarters, the largest federation of business leaders and employers in France.