Virus: Thousands of Protesters against Restrictions in Madrid
January, 24, 2021 - 15:42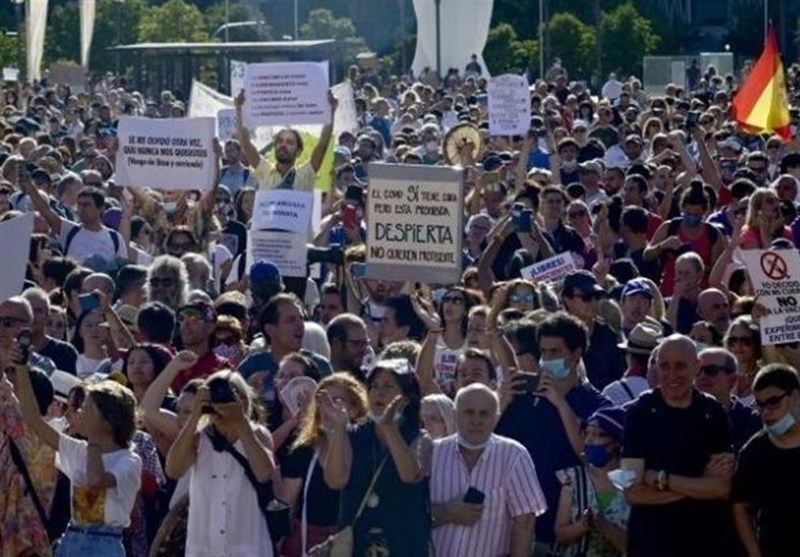 TEHRAN (Tasnim) – Thousands of people demonstrated in central Madrid on Saturday against the Spanish government's restrictive measures to contain the epidemic, and denounced the "deception" of a virus which some protesters said "does not exist".
To the cries of "Freedom!" and in an atmosphere hostile to the press, thousands of people marched from Atocha station to Plaza Colon.
Many protesters were not wearing masks, despite the legal obligation to wear them at all times on public roads and in the midst of the third wave, which has claimed more than 400 lives a day this week.
"People have to take off their blindfolds, be less afraid and realize that it's just a bad flu, that you have to wait for it to pass and that's it," Milagros Solana, a 71-year-old retiree, told the AFP.
"Mortality is lower than in other years," she added, downplaying the official tally, which has more than 55,000 dead and 2.5 million confirmed cases of COVID-19 in Spain since the start of the pandemic .
Beside her, a friend showed photos on her phone claiming that "hospitals are empty" in a country where more than a third of intensive care beds are occupied by coronavirus patients, and where several centers have had to evacuate other patients to make room for patients with the virus.
Many protesters also criticized the ongoing vaccination campaign as a method to end the epidemic.
In an attempt to stem the pandemic, the government has decreed a nighttime curfew and the restriction of mobility between regions. In Madrid, hotels must now close at 9:00 p.m.