Protests near Minneapolis after Fatal Police Shooting at Traffic Stop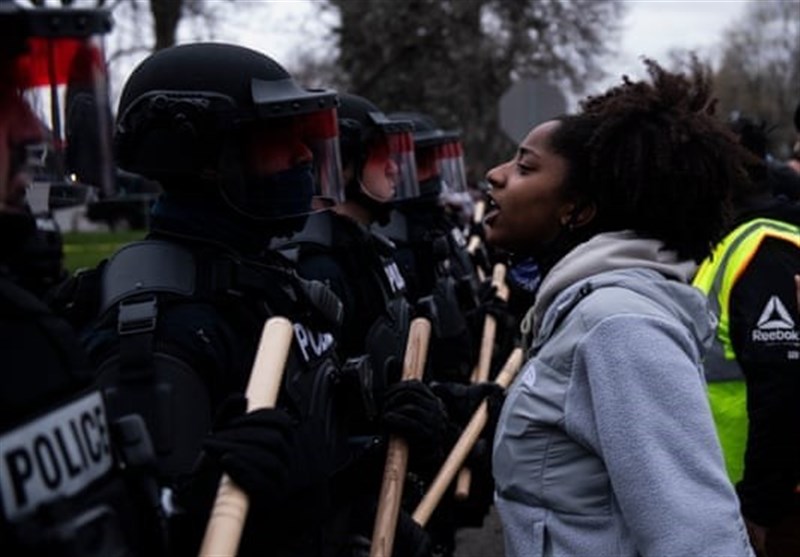 TEHRAN (Tasnim) – Police in the Minneapolis area shot and killed a man in the city of Brooklyn Center on Sunday afternoon, sparking clashes between hundreds of protesters and police officers in an area already on edge during the murder trial of former officer Derek Chauvin.
Family members at the scene of the shooting identified the victim as 20-year-old Daunte Wright, who is Black. According to Brooklyn Center police, the incident occurred shortly before 2pm when an officer pulled over a vehicle due to an alleged traffic violation. Police stated that the driver re-entered the vehicle as officers attempted to take him into custody and one officer opened fire.
"The vehicle traveled several blocks before striking another vehicle," a statement said. A female passenger sustained non-life threatening injuries during the crash, and a police officer was also reportedly taken to hospital, The Guardian reported.
Daunte Wright's mother, Katie Wright, told reporters on Sunday afternoon she had been on the phone with her son as the encounter with police occurred. According to her account, reported by local TV news, her son had called her as he was being pulled over to get car insurance for the vehicle, which she had recently given him.
She said she heard officers instruct her son to get out of the car and then "scuffling" shortly before the phone hung up.
"A minute later, I called and his girlfriend answered, who was the passenger in the car, and said that he'd been shot and she put it on the driver's side, and my son was laying there lifeless," she said.
On Sunday evening, hundreds of protesters marched to the Brooklyn Center police department and were met by officers dressed in riot gear who discharged teargas, flash bangs and other munitions at the crowd. Confrontations were ongoing at 11pm local time.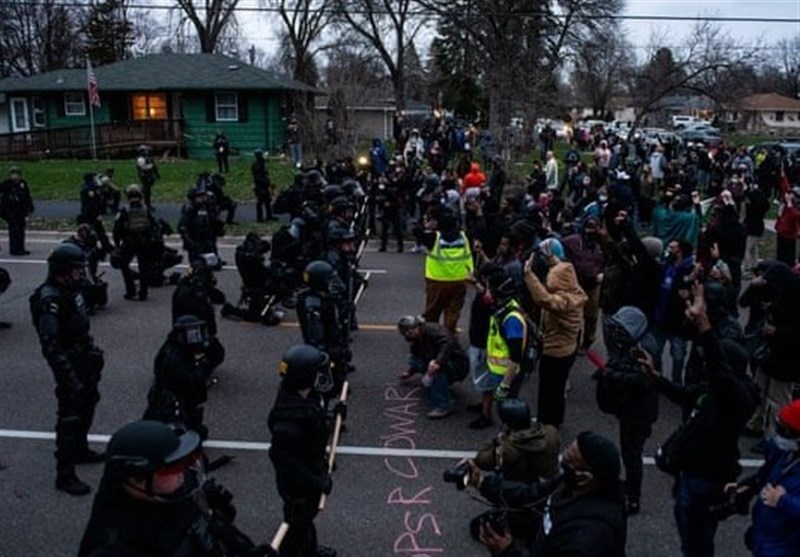 As groups of protesters gathered to march on the city's police department, the mayor, Mike Elliott, said the shooting was "tragic" but urged protesters "to be peaceful and that peaceful protesters are not dealt with force". As it approached midnight, Elliott said he would issue a curfew order.
Brooklyn Center is a city north-west of Minneapolis with a population of about 30,000. Tensions are high in Minneapolis and the surrounding area as the murder trial of Derek Chauvin, the white former officer who knelt on the neck of George Floyd, a 46-year-old Black man, is set to continue into its third week on Monday.
Police said Brooklyn Center officers involved in the incident were wearing body- cameras that were activated during the shooting. They also believe dash cameras were activated during the incident.
"I am closely monitoring the situation in Brooklyn Center. Gwen and I are praying for Daunte Wright's family as our state mourns another life of a Black man taken by law enforcement," Governor Tim Walz said in a statement posted on Sunday night.
A woman who lives near the crash scene, Carolyn Hanson, said she saw law enforcement officers pull a man out of a vehicle and perform CPR. A passenger who got out of the car was also covered in blood, Hanson said.
Officials from the Minnesota bureau of criminal apprehension said the agency was on the scene of a shooting involving a police officer in Brooklyn Center on Sunday afternoon.