IRGC Chief: Israel's Evil Acts to Backfire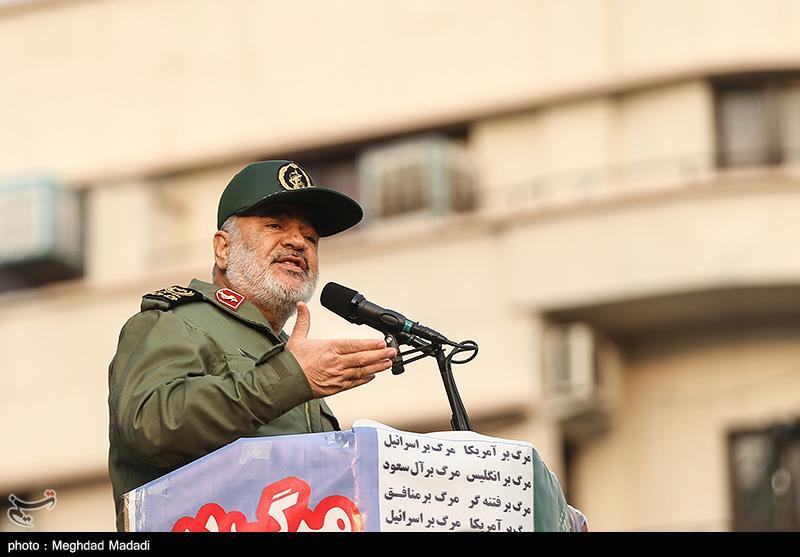 TEHRAN (Tasnim) – Commander of the Islamic Revolution Guards Corps Major General Hossein Salami reminded the Israeli regime that its vicious activities would imperil itself, warning that Iran's reaction will be on par with or even harsher than the threats.
In comments about the recent developments in the occupied Palestinian territories, the IRGC commander said on Monday that the vicious acts committed by the Zionists in the region will boomerang.
"The Islamic Republic of Iran will react to any vicious measure at the same level or more strongly," Major General Salami further warned.
The evil Israeli activities will pose "real threats" to them in future, the commander warned, adding, "If the Zionist regime continues to make such moves, these measures will push them closer to dissolution, particularly considering that all conditions have been prepared for the fall of the Zionist regime."
In remarks on Sunday, Chief of Staff of the Iranian Armed Forces Major General Mohammad Hossein Baqeri said the Zionist regime of Israel is mistaken to think that it can target Syria continually or take mischievous actions in the sea without receiving a response.
Asked about Iran's reaction to the continued hostile actions by the Israeli regime, Major General Baqeri said Iran's response would not be made known now but added that the Zionist regime will not stay calm.