Rouhani: Anti-Iran Sanctions Shattered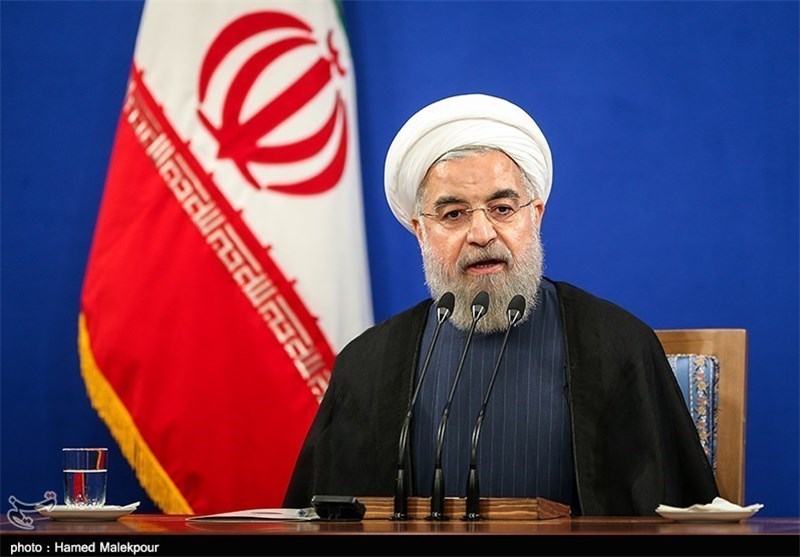 TEHRAN (Tasnim) – The sanctions against Iran have broken and will soon be terminated as the world acknowledges that full implementation of the Joint Comprehensive Plan of Action is the sole way to ensure international peace and security, President Hassan Rouhani said.
Speaking at a cabinet session on Wednesday, Rouhani said, "As the president, I say it to (the Iranian) people that the sanctions have been shattered, and if we remain together and united, the sanctions will soon be lifted."
He also noted that the other parties are mindful that they have to honor the JCPOA commitments.
"Today, there is one voice in the world, as everybody says that there is no option for peace and security in the region and the world except the full implementation of the JCPOA," the Iranian president stressed.
He also dismissed the opposition expressed by the Zionist regime, saying what is important is that there is international consensus about the need to carry out the 2015 nuclear deal.
The president praised the Iranian negotiators for their great job in the latest round of the JCPOA talks in Vienna, adding that the sanctions will be soon terminated if the other parties abide by the law.
The new round of talks to revive the Joint Comprehensive Plan of Action began in Vienna on April 6 between Iran and the remaining members of the nuclear deal, namely the UK, France, Russia and China plus Germany.
The US left the JCPOA in 2018 and restored the economic sanctions that the accord had lifted. Tehran retaliated with remedial nuclear measures that it is entitled to take under the JCPOA's Paragraph 36.
The current negotiations examine the potential of revitalization of the nuclear deal and the US' likely return to it.