Ayatollah Khamenei Votes in Presidential Election, Urges Maximum Turnout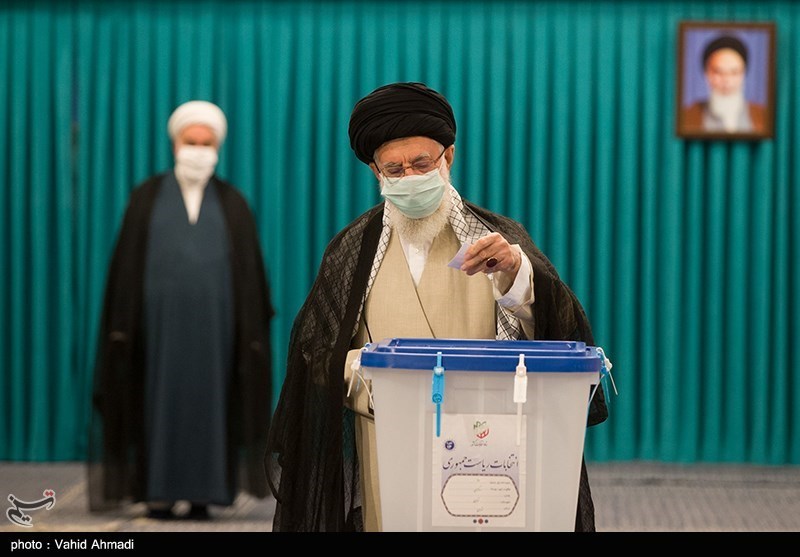 TEHRAN (Tasnim) – Leader of the Islamic Revolution Ayatollah Seyed Ali Khamenei cast a ballot in Iran's presidential election on Friday morning as soon as the voting kicked off, calling on all Iranians to take part in the "major national test".
The Leader cast his ballot at the Imam Khomeini Husseiniya in Tehran at 7 am local time, with enthusiastic journalists and photographers present at the site of the voting.
In comments after voting in the 13th presidential election, the 6th City and Village Councils elections, the midterm elections for the 5th Assembly of Experts, and the midterm elections for the 11th Parliament, Ayatollah Khamenei said the election days belongs to people.
The Leader stated that today's main actors in the field are the people that will determine the fate of the country for the coming years by voting. "Therefore, today belongs to people."
Ayatollah Khamenei also noted that "human wisdom" dictates that everybody should take part in the major and countrywide national test.
The reason that people are repeatedly invited to take part in the elections is that the people themselves will benefit from the turnout in the first place, and the Islamic Republic will also gain major points in the international arena, the Leader stressed.
Ayatollah Khamenei also emphasized that every single vote counts and nobody should believe that his or her one vote will not make a change.
The Leader also recommended that the voters go to the polling stations in the early hours.
Polling stations across Iran opened at 7 am local time and will continue to receive voters until midnight. The Interior Ministry says it may extend the election period until 2 am Saturday if necessary.
Iranians have headed to the polls as soon as the stations opened to elect the country's new president.
More than 59,310,000 eligible voters can take part in the ongoing elections, more than 1,392,000 of whom are allowed to vote for the first time.
Around 3.5 million Iranian expatriates are also eligible to vote in 133 diplomatic missions of the Islamic Republic in the foreign countries.
The City and Village Councils elections in the capitals of 24 provinces, except in Tehran, are being held with electronic ballot boxes.
There are four candidates seeking presidency in the polls, including Mohsen Rezaee, Seyed Ebrahim Raeisi, Seyed Amir Hossein Qazizadeh Hashemi, and Abdolnasser Hemmati. Three other hopefuls, Alireza Zakani, Mohsen Mehralizadeh, and Saeed Jalili dropped out of the race on Wednesday and Thursday.