Iran's President Lauds PMU for Protecting Iraq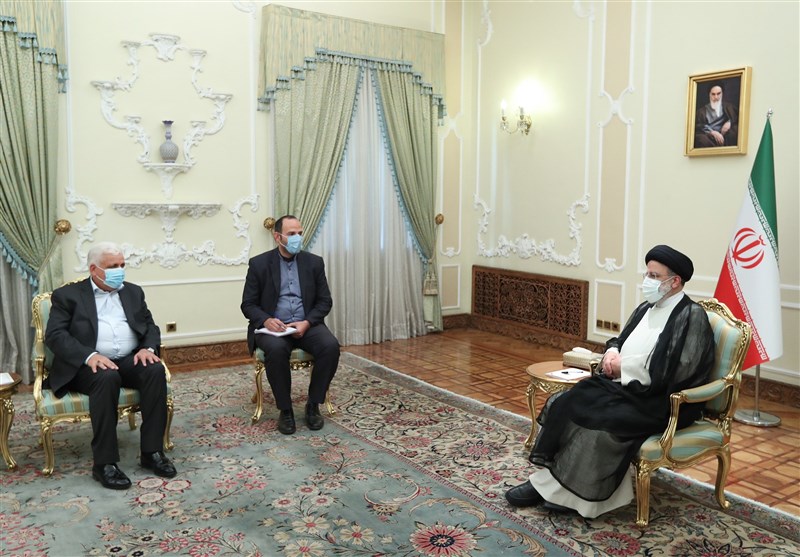 TEHRAN (Tasnim) – Iranian President Ebrahim Raisi hailed the Hashd al-Sha'abi forces (aka Popular Mobilization Units) as a major backing for the development of Iraq who have defended the Iraqi people against hostile plots.
In a meeting with the chairman of Hashd al-Sha'abi Falih al-Fayyadh, held in Tehran on Friday, Raisi said the initiative by top Iraqi religious leaders to form the PMU was a wise move that has had numerous blessings for the country and its people.
He said the PMU forces enjoy the "very valuable asset" of support among different Iraqi Shiite and Sunni groups.
The president commemorated the top Iranian and Iraqi anti-terror commanders, Lieutenant General Qassem Soleimani and Abu Mahdi al-Muhandis, who were assassinated by the US in Iraq, and emphasized that their martyrdom would deepen relations between the two nations.
For his part, Fayyadh said the Iraqi people highly respect General Soleimani who has become a symbol of deep relations between the two nations.
He added that most of the Iraqi people believe that Hashd al-Sha'abi guarantees the country's sovereignty and prevents the formation of a dictatorship, according to Press TV.
The US assassinated General Soleimani, the commander of the Quds Force of the Islamic Revolution Guards Corps (IRGC), along with Muhandis, deputy head of Hashd al-Sha'abi, and their companions by targeting their vehicle outside the Baghdad International Airport on January 3, 2020.