Boosting Iran's Defense Power A Certain Duty: Top General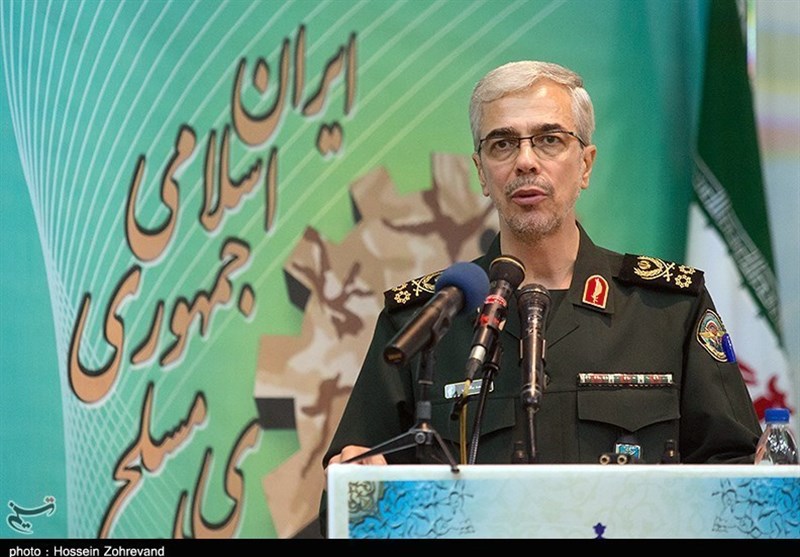 TEHRAN (Tasnim) – The Chief of Staff of the Iranian Armed Forces described the constant improvement of defense capabilities as a cardinal strategy of the Islamic Republic, noting that maintaining security in a delicate region would be impossible without self-reliant military power.
Speaking at a ceremony in Tehran on Sunday, held to inaugurate the new Iranian defense minister, Major General Mohammad Hossein Baqeri said the expansion of Iran's defense power is a definite and unavoidable duty for various reasons.
He also noted that the Defense Ministry of Iran has a primary responsibility for the enhancement of the defense power and maintaining the military preparedness.
The top commander then praised the Iranian forces' remarkable achievements, saying the outcome of the activities of the Iranian Armed Forces, considering Iran's low military budget in comparison with other countries, is incomparable in quality.
The general said while Russians refused to provide Iran even with the shape of their Iskander missile, which is a ballistic missile with a range of 300 km, Iranian experts managed to gain the technical know-how to manufacture homegrown ballistic missiles with pinpoint accuracy.
Major General Baqeri explained that Iran is located in a very delicate region with sensitive conditions, adding that maintaining security and calm and ensuring development in such circumstances would be impossible without a self-reliant defense power.
Pointing to the US military campaign in the region on the pretext of the 9/11 attacks, the Iranian general said Americans continue to diversify their plots against the region.
He pointed to the US invasion of Afghanistan and its ultimate withdrawal from that country after a humiliating defeat, saying the Americans have pulled out as the oppressed people of Afghanistan have been left with unrest and without a bright prospect.
"Despite spending $ 2,000 billion (in Afghanistan), the US turned the Afghan National Army into a useless army that could resist against that attacking group (Taliban) for only 11 days," the top commander added.
In remarks on Saturday, Leader of the Islamic Revolution Ayatollah Seyed Ali Khamenei denounced the US as the source of all the crises in Afghanistan, saying, "The US committed all sorts of atrocities during their 20-year occupation of that country. These ranged from bombing wedding and mourning ceremonies, to imprisoning individuals, and included increasing the production of addictive drugs by tens of times. They did not take a single step for the development of Afghanistan."
Explaining the position of Iran on Afghanistan, Ayatollah Khamenei said, "We support the Afghan nation. Governments come and go. It is the Afghan nation that will remain. The nature of our relations with other governments depends on the nature of their relations with us. May God bring the best situation for the nation of Afghanistan."