FM Urges EU's Disregard for US in Shaping Ties with Iran
September, 22, 2021 - 14:57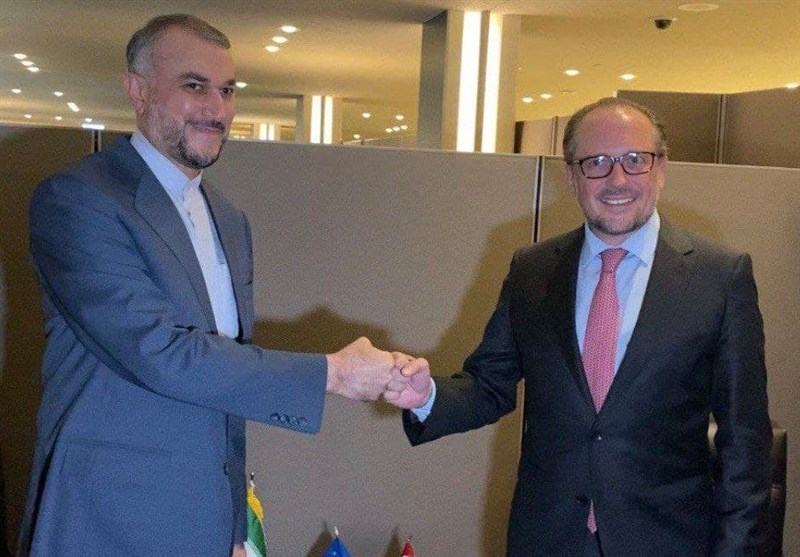 TEHRAN (Tasnim) – Foreign Minister of Iran Hossein Amirabdollahian urged that European governments should not fall under the influence of the US' "unconstructive" policies in their interaction with the Islamic Republic.
In a meeting with his Austrian counterpart Alexander Schallenberg on the sidelines of the UN General Assembly in New York, Amirabdollahian highlighted Iran's resolve to develop balanced relations with Europe.
He also underlined that Europe's interaction with Iran should not be a function of the US' unconstructive approaches and policies on Tehran.
Praising Austria for donating coronavirus vaccines to Iran, Amirabdollahian expressed Tehran's readiness to expand the economic, financial and banking relations with Vienna.
"The new (Iranian) administration is prepared to promote the relations with Austria to the highest level," he noted.
On the situation in Afghanistan, the top Iranian diplomat reiterated the need for the formation of an inclusive government.
He also noted that Iran has spared no effort to help Afghans despite all pressures, pointing to millions of Afghan nationals that have resided in Iran in the past four decades.
Amirabdollahian called on the international community to fulfill its responsibility to help Afghanistan.
For his part, Schallenberg said Austria seeks to expand relations with Iran and sees no limit to the enhancement of bilateral ties.
Austria is willing to host the negotiations on the JCPOA like the past, he stated, saying the good opportunity for the revival of the 2015 nuclear deal should be seized by all parties.
He also said that close cooperation between Iran and the International Atomic Energy Agency will prevent certain actors from undermining the process of nuclear negotiations.