Iran Doubtful about US' Return to JCPOA: Top Diplomat
September, 25, 2021 - 11:46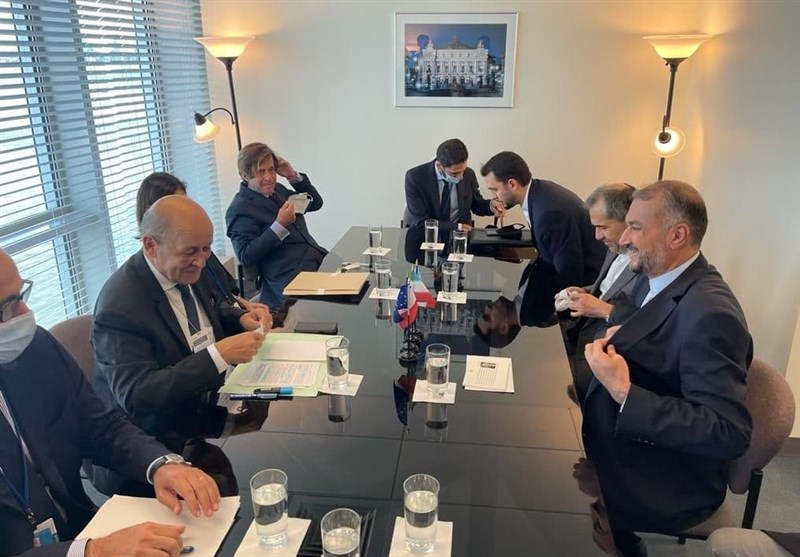 TEHRAN (Tasnim) – Iran is doubtful whether the administration of US President Joe Biden is serious about rejoining the 2015 nuclear deal, since it has not taken any practical step so far to honor its JCPOA commitments, Iranian Foreign Minister Hossein Amirabdollahian said.
In a meeting with his French counterpart on the sidelines of the UN General Assembly in New York on Friday, Amirabdollahian deplored the failure of the US and the three European parties to the JCPOA to take any "serious and practical measure" to honor the 2015 nuclear deal.
When it comes to the resumption of the talks on the revival of the Joint Comprehensive Plan of Action, what is of extraordinary significance for the Iranian people is "practical and tangible results", he added.
Iran is doubtful about the Biden administration's seriousness in returning to the nuclear deal, Amirabdollahian stated, saying Washington has not taken any practical step to fulfill its JCPOA commitments and has even imposed fresh sanctions on Tehran.
For his part, French Foreign Minister Jean-Yves Le Drian said Paris is concerned about a delay in the resumption of the JCPOA revival talks and insists on the immediate restart of the negotiations.
The two senior diplomats also talked about regional issues, including the latest developments in Afghanistan.
Amirabdollahian said Iran is in contact with all Afghan parties to encourage them to form an inclusive government.
Pointing to the growing number of Afghan refugees in Iran, he called for international support, including from France, for the vaccination of Afghan nationals in Iran against the coronavirus.