Iran Pursuing Economic Plan Irrespective of Sanctions: FM
October, 09, 2021 - 17:04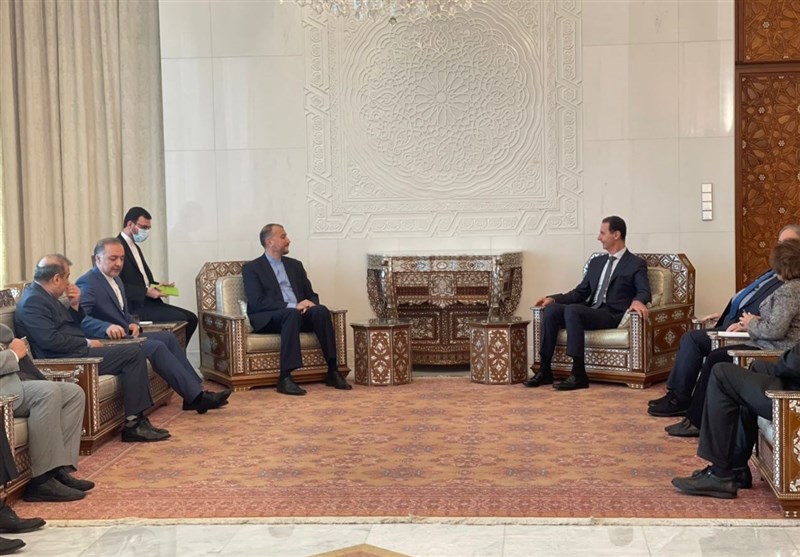 TEHRAN (Tasnim) – Iran will press on with its plan for sustainable economic development even if the cruel foreign sanctions remain in place, Foreign Minister Hossein Amirabdollahian said.
In a meeting with Syrian President Bashar al-Assad in Damascus on Saturday, Amirabdollahian said the new administration in Tehran is pragmatic.
Iran has formulated a plan for sustainable economic development that will be pursued even if the cruel sanctions against the country continue, he added.
Amirabdollahian noted that Iran will soon return to the Vienna talks for the revival of the 2015 nuclear deal with a plan to receive the necessary guarantees of verifiable implementation of commitments by the Western parties.
"If the (JCPOA) negotiations yield results, we will take advantage of it to accelerate the implementation of our country's development plan. However, we won't halt the advancement of that plan for the sake of talks," the foreign minister stated.
Hailing the deep-rooted relations between Iran and Syria and congratulating the Arab country on its victories in the political and international arenas, Amirabdollahian said the diplomatic atmosphere in the recent UN General Assembly meeting indicated that the circumstances have changed in favor of Syria.
The top Iranian diplomat also talked about ways to enhance Tehran-Damascus relations and about the latest developments in Yemen, Iraq and Syria.
Iran is in contact with all parties in Afghanistan, including the Taliban, and invites them to form an inclusive government, the visiting foreign minister added.
For his part, the Syrian president said the withdrawal of US forces from Afghanistan reveals the rise of new axes and the fall of the Western front.
Regional states and the neighbors of Afghanistan have realized that the US won't accept responsibility for its policies in Afghanistan, Assad said.
He also called on Iran to enter negotiations with the neighbors and influential countries to steer the developments in Afghanistan towards success, warning that the US seeks to foment disagreement among the neighbors of Afghanistan.
On the political developments in Syria, Assad said Damascus interacts with the Constitutional Committee within the framework of national interests, but would not accept interference and imposition of foreign views.
The Syrian president stressed the need for an end to the occupation of Idlib and for the reunification of all Syrian territories.