Hundreds Protest Rittenhouse Trial Verdict across US (+Video)
November, 20, 2021 - 16:47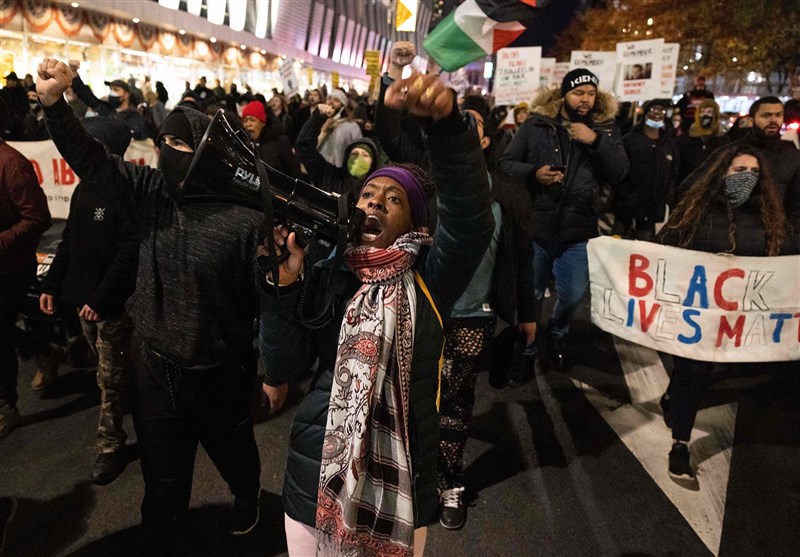 TEHRAN (Tasnim) – Protests sprang up in New York and other cities across the US Friday night in response to Kyle Rittenhouse's acquittal, resulting in at least five arrests and some property damage in Queens, according to the NYPD.
A jury acquitted Kyle Rittenhouse, 18, on Friday on all charges relating to his fatal shooting of two men and wounding of a third during last year's tumultuous racial justice protests in Wisconsin, determining the teenager had acted in self-defense, New York Post reported.
Hundreds of people reacted to the verdict across the country by marched through streets, carrying signs and chanting as they blocked traffic lanes.
NYPD tweeted a photo of vandalized vehicles in Queens, including a car with handicap plates that had graffiti on the back in black spray paint.
"The NYPD takes its responsibility to protect the 1st amendment rights of peaceful demonstrators seriously," the tweet said. "Just as important is the safety of NYers & the protection of property from people breaking the law in the name of protest. As seen tonight in Queens, they will be arrested."
Law enforcement sources said five people were arrested for allegedly damaging cars and houses in Middle Village.
Queens Councilman Robert Holden told The Post that protestors tore through Crowley Park, and were also "jumping on cars and stealing American flags" on residential streets in Middle Village and Maspeth.
About 300 protesters also gathered outside Brooklyn's Barclays Center, where the Nets played the Orlando Magic Friday night, decrying the not-guilty verdict as a shameful racial double standard in the justice system.
Some held signs that read: "no justice in the capitalist courts" and "capitalism breeds racist terror."
The group marched across the Brooklyn Bridge and into Lower Manhattan, before dispersing.
Meanwhile, in Kenosha, Wisconsin, dozens of protesters congregated outside of the courthouse where Rittenhouse had been acquitted, for hours after the decision was announced.
Tensions also escalated dramatically in Portland, Oregon where a riot was declared after a group of about 200 protesters began hurling objects at police officers and damaging city buildings, cops said.
The protesters in Portland took out their fury on passing cars, broke windows, and damaged the doors of a number of buildings in the vicinity. Some in the crowd reportedly called for the city's Justice Center to be burnt down.
The police department declared a riot after what it described as a "violent, destructive group" attempted to breach the gates of the Multnomah County Detention Center. However, they failed to gain entry and were later dispersed.
One person was arrested as a result of the unrest, and the police published a photo of the rear window of one of its vehicles being smashed as part of its efforts to identify the perpetrator.
Other protests took place in Chicago, where people gathered on the city's streets to protest the verdict for a 90 minute peaceful march, local media reported. The Chicago Police Department had canceled many officers' days off in anticipation of any unrest in response to the verdict, according to WGN.
Dozens of activists also gathered to protest a Kenosha court's Friday acquittal of Kyle Rittenhouse from all five charges in front of the district courthouse in Washington, DC, on Friday evening.