Kashmiri Women Stage Protest in Budgam in Support of Indian Muslim Girls (+Video)
February, 14, 2022 - 12:19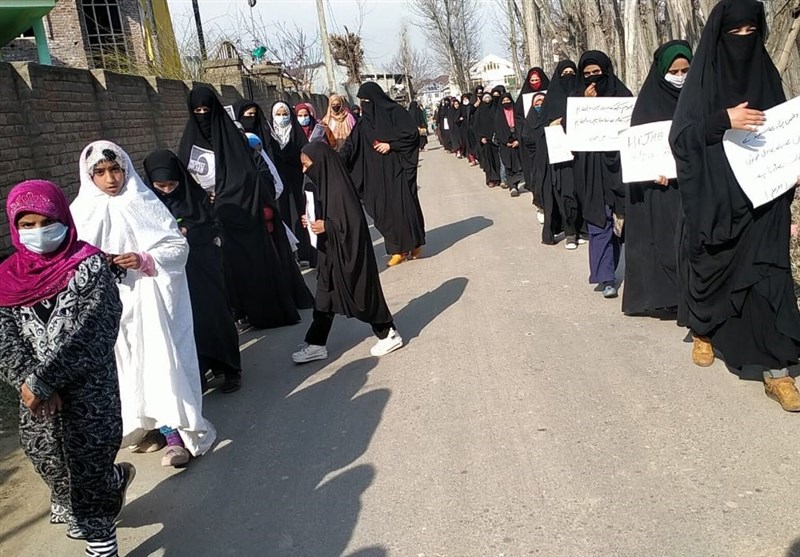 TEHRAN (Tasnim) – Scores of women on Sunday staged a protest demonstration in Budgam, Indian-administered Kashmir, in solidarity with Karnataka girls who were denied entry into colleges for wearing Hijab.
Hundreds of women took out a rally in budgam district on Sunday to protest against the ban on hijab in Karnataka, a state in southwest India.
The women, holding placards with messages supporting their rights to wear 'hijab', expressed solidarity with the young woman in Karnataka who faced a group of aggressive youths in saffron shawls.
"Hijab is our identity. It does not stop a woman from prospering. Whosoever has fiddled with our identity will get destroyed," said the protesters.
The interior minister of Karnataka last week announced the decision by state officials to ban hijab in schools and universities, saying the decision was made to keep religion out of education.
Officials in the Indian state of Karnataka have extended the closure of all universities in the state for another two days following student protests against the hijab ban.
Authorities in the Udupi region of the Indian state of Karnataka have issued a curfew around high schools and universities from Monday to February 19.
The Karnataka Supreme Court is scheduled to hear the hijab case by Monday.
About 200 million of India's 1.4 billion people are Muslim.
The government of Indian Prime Minister Narendra Modi has imposed severe restrictions on Muslims in recent years.
The Indian government's policy of repressing and abusing the rights of Muslims in the country has led extremist Hindus to carry out deadly acts against Muslims under the auspices of the ruling extremist and nationalist BJP party.