Biden Gets Embarrassed As People Ignore Him, Flock to Obama (+Video)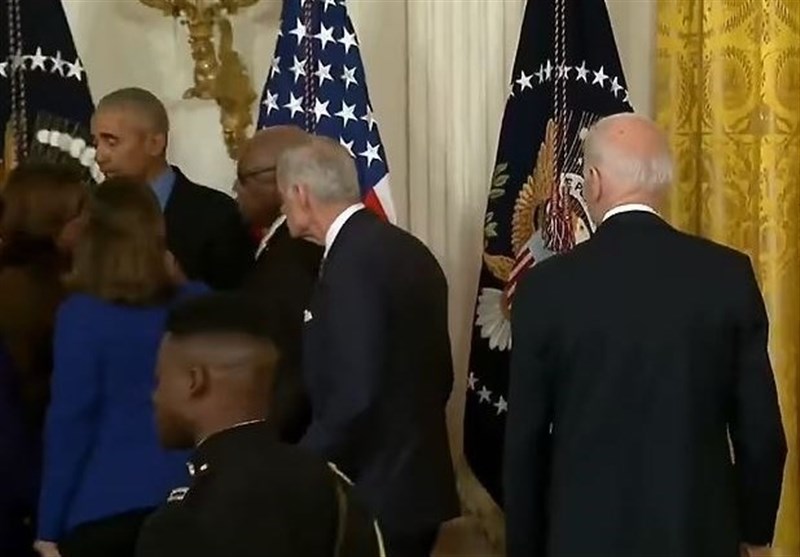 TEHRAN (Tasnim) – US President Joe Biden has gone viral for getting completely embarrassed when people ignored him and flocked to Barack Obama during the former president's first trip back to Washington, DC, since leaving office.
Biden, 79, was filmed raising his hands in gentle exasperation Tuesday, as he was ignored by a group who instead ran to greet Obama, 60.
The 43rd president was invited back to his old home by his former vice president to celebrate the 12th anniversary of the launch of the Affordable Care Act, better known as Obamacare.
Obama and Biden were together to present the Biden administration's plan to 'fix' the so-called 'family glitch' in the ACA.
Before Biden was shunned for his charismatic predecessor, the event had been a lovefest between the two leaders, with both men joking about their time together under Obama's tenure.
Obama started his speech by joking he was joined by 'Vice President Biden' and said 'some changes have been made' in the five years since he left - including all Secret Service agents being 'forced to wear aviators' and that 'there's a cat running around' the residence. He even joked about having to put a tie for the day.
'Thank you. Vice President Biden. Vice President - that was a joke,' Obama said to much laughter and applause.
Following his speech, Obama was seen shaking hands with fans and fellow politicians in the East room while Biden - who is the oldest ever president - wandered around looking confused.
In another clip, Biden was seen standing behind Obama and Vice President Kamala Harris as they shook hands with people, while he watched with no one seemingly paying him any mind.
Several polls show Biden's approval at a dismal 39 percent and an average from Real Clear Politics has the president averaging a 53.7 percent disapproval rating.
The clip has garnered online reaction, with some people saying the president was outshone by his former boss and that he cannot command respect in his own White House.