Israel to Suffer Blow at Its Center If It Acts Wrongly, Iran's President Warns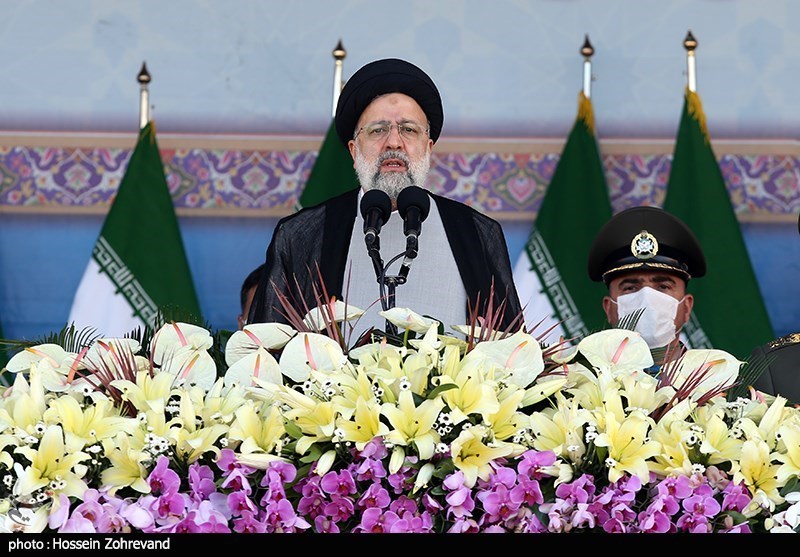 TEHRAN (Tasnim) – Highlighting Iran's monitoring of Israel's activities, Iranian President Ebrahim Raisi warned the Zionist regime that even a small mistake will trigger Iran's response at the center of that regime.
Addressing the military parades held in Tehran on Monday to mark the National Army Day, Raisi said the Iranian Armed Forces have strengthened their capabilities so well that Iran's military power has become noted in the region.
Highlighting the Iranian military forces' combat preparedness, the president made it clear that Iran has the deterrent power to confront any hostile move.
"Not a small movement of the enemy is hidden before the sharp eyes of the Iranian Armed Forces," he added.
The president reminded the Zionist regime that Iran's security forces are monitoring all of its activities as it is pushing for the normalization of ties with a number of regional countries.
"If they (Israelis) make the smallest mistake, our response will be given at the center of the Zionist regime and our Armed Forces won't let them relax," the president warned.
Raisi also pointed to the White House spokesperson's admission that the unilateral sanctions against Iran have ended in failure, saying such fate awaits all enemies of Iran.
In comments in December 2021, Raisi had cautioned the enemies that any bellicose move will draw such a decisive response from the Iranian military forces that it will bring about a significant change in strategic equations.
Earlier in April, Chief of Staff of the Iranian Armed Forces Major General Mohammad Hossein Baqeri said all Iranian military forces are ready to give a decisive and crushing response to any threat at any level in such a way that the enemies of Iran would regret taking hostile action against the Islamic establishment.