Leader Sets Guidelines for Iranian Judiciary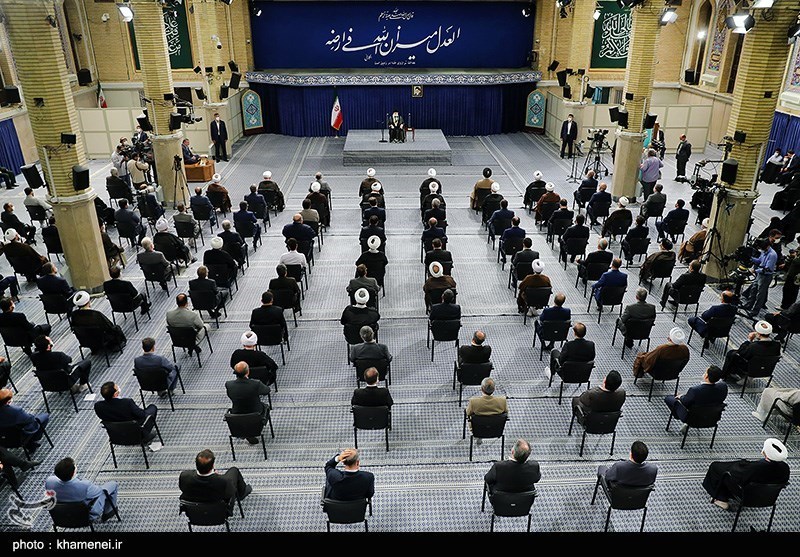 TEHRAN (Tasnim) – Leader of the Islamic Revolution Ayatollah Seyed Ali Khamenei highlighted the vital function of the Judiciary in different affairs of the country, and provided useful guidelines for the judicial authorities and personnel.
The head and top officials of the Iranian Judiciary met with Ayatollah Khamenei on Tuesday on the occasion of the anniversary of the martyrdom of Ayatollah Seyed Mohammad Beheshti and the National Week of the Judiciary.
In an address, the Leader described the Judiciary as an important pillar with substantial effects on various issues in Iran.
Ayatollah Khamenei also provided the Judiciary officials and personnel with eight major guidelines.
For the first recommendation, the Leader called for the implementation of a document on the transformation of the Judiciary, developed during the tenure of the former Judiciary chief, describing it as one of the most progressive documents according to which the staff members should be trained.
Ayatollah Khamenei further described plans to fight corruption in the Judiciary as an overriding priority, noting that while the majority of judges are virtuous, pious and hardworking people, it is necessary to take action against a few corrupt individuals that could disgrace their colleagues. "When it comes to the fight against corruption, the main job is to combat the structures that generate corruption and to bust them."
The Leader stressed the need to enhance judicial knowledge and prevent weak verdicts, recommending that virtuous and dedicated judges and personnel should be rewarded.
None of the Judiciary's authorizations or legal missions should be delayed, Ayatollah Khamenei underlined.
In another piece of advice, the Leader described plans to prevent the commitment of crimes as a major responsibility of the Judiciary.
The sixth recommendation that Ayatollah Khamenei made was the necessity for the regulation of contacts between the Judiciary and the judicial officers.
The Leader further reminded the Judiciary of its responsibility for the mental security of people, urging the Judiciary officials to prevent rumors and lies from harming the mentality of people.
Ayatollah Khamenei finally referred to various important cases that have affected the public opinion, stressing that such critical matters, like the illegal seizures or the issues relating to factories, must be settled in the courts and be finalized.
In July 2021, Ayatollah Khamenei appointed Gholam Hossein Mohseni Ejei as the new chief of the Judiciary. In the decree, the Leader highlighted the responsibilities of the Judiciary as specified in the Constitution and asked the Judiciary chief to continue the transformational approach and implementing the existing plan for transformation. He also called on the Judiciary chief to increase the use of current technology in the Judiciary, entrust responsibilities to competent, industrious people, honor the services rendered by pious judges but confront violations decisively at the same time, and be in contact with the people.