Iran's FM Urges US to Ditch Excessive Demands, Embrace Realism in JCPOA Talks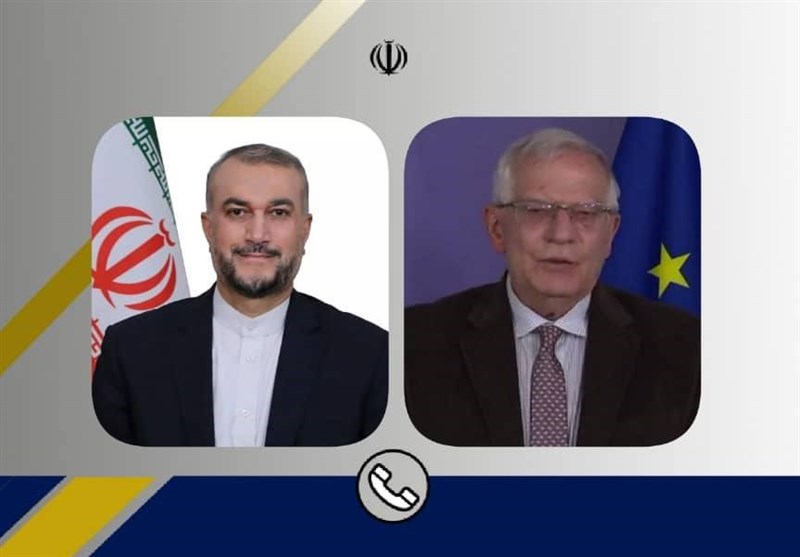 TEHRAN (Tasnim) – Iranian Foreign Minister Hossein Amirabdollahian told the EU's foreign policy chief that the White House should abandon excessive demands and doubts and with realism take steps towards reaching a deal in the talks aimed at reviving the JCPOA and lifting of anti-Iran sanctions.
In a telephone conversation on Monday evening, Amirabdollahian and Josep Borrell discussed the latest status of the talks as well as regional and international developments.
"There is no doubt in the Islamic Republic of Iran's resolve to reach a good, strong, and sustainable agreement (in the JCPOA talks)," the Iranian top diplomat said.
He hailed the efforts by Borell and European Union deputy foreign policy chief Enrique Mora in the course of the negotiations and referring to his recent talks with the foreign ministers of Italy and France said the United States should abandon excessive demands and doubts and walk on the path of achieving a deal with realism.
Amirabdollahian added that Washington should stop its unconstructive behavior and resorting to pressure and sanctions.
Elsewhere in his remarks, the Iranian foreign minister referred to the upcoming summit of the presidents of Iran, Russia and Turkey in Tehran and elaborated on the Islamic Republic's approach to food security and energy security.
He referred to his recent talks with the foreign minister of Ukraine and underlined the importance of resumption of Ukraine's grain exports.
Borrell, for his part, appreciated Iran's positive resolve and seriousness in the talks on the revival of the 2015 nuclear deal and the country's initiative aimed at surmounting the existing obstacles.
He voiced his and his deputy's readiness to facilitate the efforts and speed up consultations with all sides for reaching a final deal.
Borrell added that efforts will continue to bring the views of Iran and the United States closer together.
Iran and the US concluded two days of indirect talks, mediated by the European Union, in the Qatari capital of Doha, late last month in an attempt to break the stalemate in reviving the JCPOA.
At the end of the talks, Iran and the EU said they would keep in touch "about the continuation of the route and the next stage of the talks."
The talks in Doha followed seven rounds of negotiations in the Austrian capital of Vienna between Iran and the five remaining parties to the JCPOA since April last year.