Black Inmate Savagely Beaten Up by Five Guards inside North Carolina Prison (+Video)
November, 15, 2022 - 16:42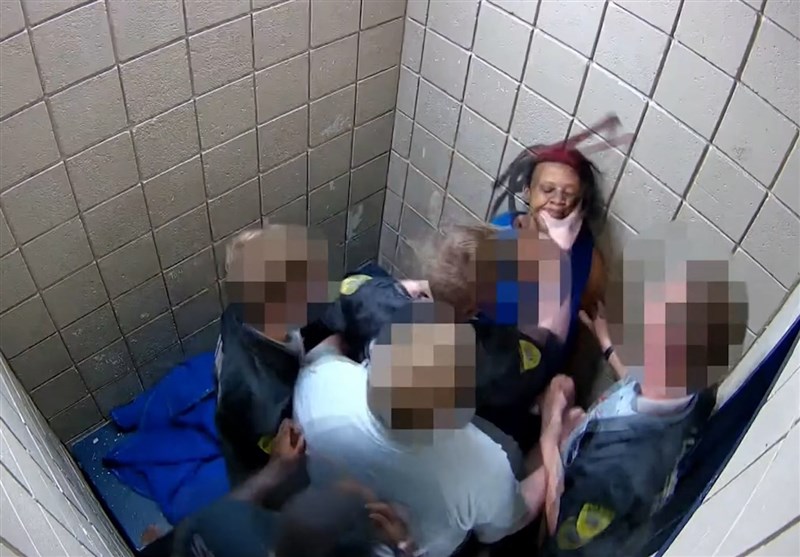 TEHRAN (Tasnim) – An attorney for a North Carolina man is calling for a criminal investigation into why his client, a 41-year-old Black man, was beaten while in custody at the Camden County, Georgia, Detention Center in September.
The distressingly violent issue inside Georgia Jail has been highlighted after surveillance footage emerged, showing five jail guards ruthlessly beating a Black detainee inside his cell at once and inhumanely dragging him out of it.
The brawl, that took place in September, was made public after Jarrett Hobbs's attorney released the footage taken inside Camden County Jail on Monday, November 14.
Georgia Sheriff Jim Proctor reviewed the footage and has now launched an "immediate" internal investigation.
Harry Daniels, a civil rights attorney, said the sheriff's deputies responsible for punching Hobbs in the back of the head and neck should be held accountable for their actions and criminal charges should be pursued against them.
It was unclear what led the deputies to beat Hobbs in this manner.
Court documents revealed that the jailers entered the cell because Hobbs was kicking his door continuously and refused to stop despite being ordered to do so, reported Daily Mail.
In the video, Hobbs is seen alone in the cell while grabbing a piece of paper and a sandwich in his hands when a guard enters his cell and grabs him by the neck before trying to push him into the corner, followed by four additional guards.
Two of the guards repeatedly punch Hobbs in the head and on his neck while another held him by the wrist.
Another camera outside the cell showed the jailers dragging Hobbs through the cell and throwing him against a wall.
Hobbs's attorney argued why the department failed to open an investigation sooner while Hobbs was charged with fighting with the deputies on the day it occurred. The suspect, a resident from Greensboro, North Carolina, following the altercation was charged with aggravated battery, simple assault and obstruction of law enforcement officers.
Hobbs, who was originally booked for drug possession and traffic violation on September 3, left Camden County Jail on September 30.
He was also on probation in North Carolina after he pleaded guilty to a charge of conspiracy to commit bank and wire fraud in 2014.
Furthermore, a court order from October 20 read that a probation officer testified that "Hobbs punched an officer in the face and another on the side of the head." "One deputy sustained a broken hand as a result of the incident," reads the order.
Refuting the claim, Daniels alleged that the officer with the broken hand injured himself when he punched a wall as he swung at Hobbs.
However, the judge revoked Hobbs's probation on November 7, claiming he violated the terms of his supervised release.
Subsequently, the judge dismissed the alleged probation violations based on the struggle with deputies. It was not unknown if the deputies involved are still on duty.