Iranian President Reassures People in Quake-Hit City
February, 05, 2023 - 13:58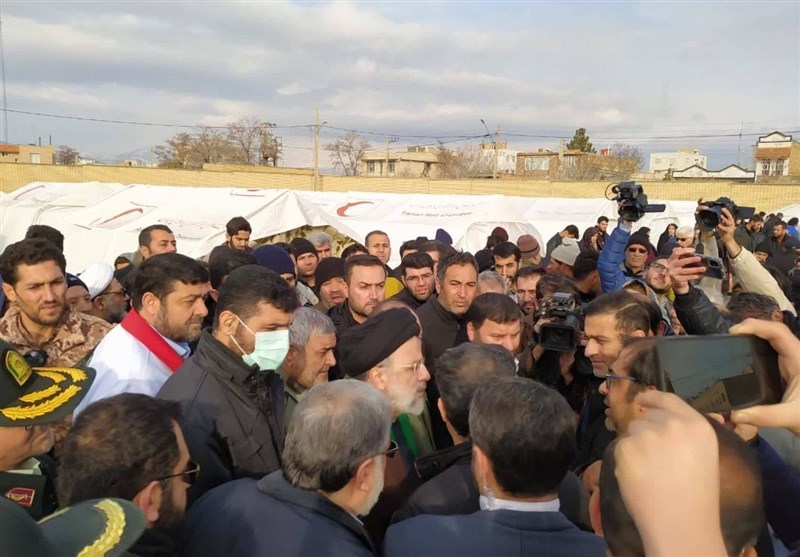 TEHRAN (Tasnim) – President Ebrahim Raisi assured the residents of Khoy in Iran's northwestern province of West Azarbaijan that his administration will spare no effort to settle their problems following an earthquake that has wreaked destruction on the city.
Raisi paid a visit to Khoy on Sunday to get briefed in person on the situation following last week's earthquake.
Hundreds of people have been injured and thousands displaced after a quake measuring 5.9 on the Richter scale hit the city and the nearby villages on January 28.
The president assured people accommodated in makeshift tents that his administration will make every effort to relieve their stress and resolve the problems.
Underscoring the need to mobilize forces to provide relief for the victims of the earthquake, Raisi called on the local people to stay vigilant and not allow rumors to concern them.
Iran is one of the most seismically active countries in the world, being crossed by several major fault lines that cover at least 90% of the country.
The deadliest quake in Iran's modern history happened in June 1990, devastating many areas in the northern province of Gilan and killing around 37,000 people.
In 2003, a magnitude 6.6 earthquake in the province of Kerman flattened the historic city of Bam, killing more than 26,000 people.