Iran Urges West to Encourage Formal Talks with Ukraine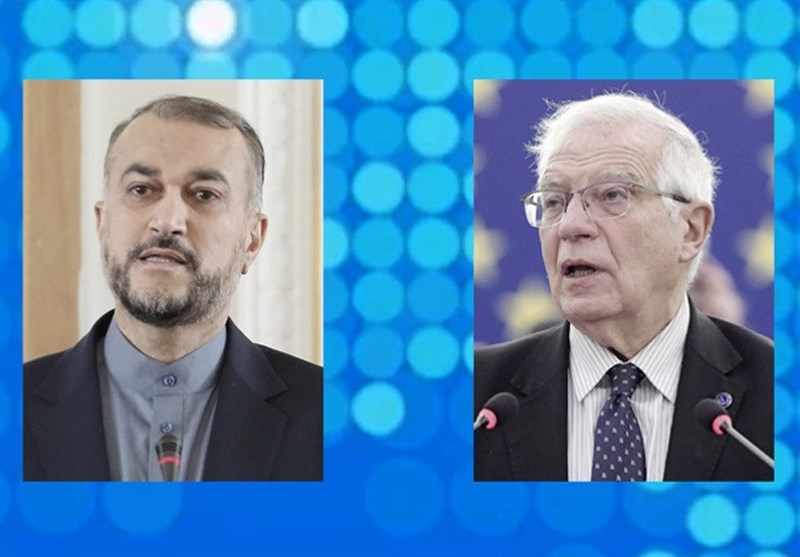 TEHRAN (Tasnim) - Iran's Foreign Minister Hossein Amirabdollahian has called on the West to encourage Kiev to stop making "baseless accusations" against Tehran and engage in "formal talks."
In a telephone conversation with EU foreign policy chief Josep Borrell on Thursday, Amirabdollahian stated that "Iran has always supported peace, not war".
He also announced Iran's readiness to help achieve peace in his upcoming visit to Moscow this month.
Last year, delegations from Iran and Ukraine held a technical meeting to discuss allegations that Iran had provided Russia with military drones for use in the war. However, the Ukrainian side failed to provide any evidence of Russia's use of Iranian drones in the war.
Amirabdollahian emphasized that "the West should encourage Ukraine to present substantiated proof at an official meeting of the political and military delegations of the two countries, replace baseless and repeated accusations with formal talks".
The two diplomats also discussed the latest state of talks aimed at lifting anti-Iran sanctions and reviving the 2015 Iran nuclear deal.
Amirabdollahian stressed that talks between Iran and the International Atomic Energy Agency (IAEA) are "on the right track", two weeks after IAEA Director General Rafael Mariano Grossi's visit to Tehran which ended with an agreement on facilitating enhanced cooperation and expediting the resolution of outstanding safeguards issues.
Borrell also described the Iran-IAEA cooperation as a positive move forward. Iran says an agreement on the revival of the deal hinges on the settlement of issues between Tehran and the IAEA, as well as the removal of all US sanctions on the country.
Tehran rolled back its compliance with the 2015 nuclear accord a year after the US unilaterally withdrew from the deal in 2018 and reimposed sanctions on Iran.
Iran and the remaining signatories to the deal have held talks on reviving the accord since April 2021, after Joe Biden came to power in the US. However, those talks have been stalled for months amid Washington's procrastination and refusal to provide guarantees.