Iran's SNSC Secretary Emphasizes Strategic Cooperation With Iraq for Progress in West Asia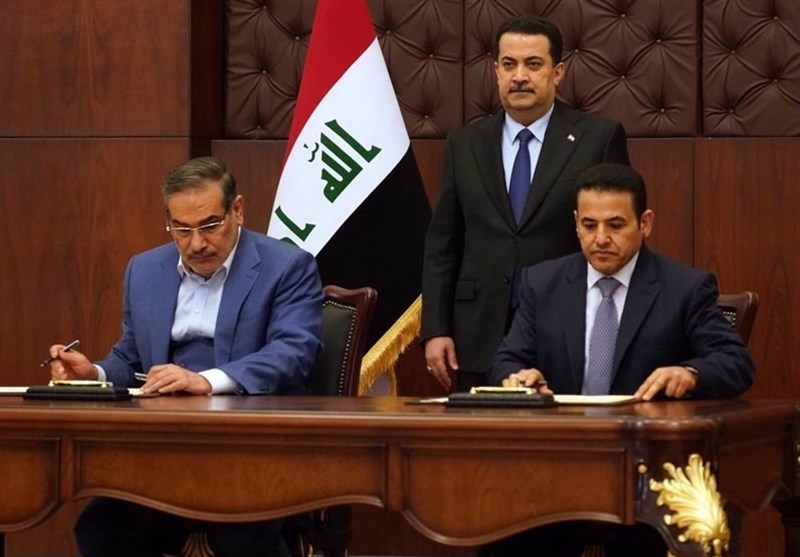 TEHRAN (Tasnim) - Iran's Secretary of the Supreme National Security Council (SNSC), Ali Shamkhani, met with Iraqi Prime Minister Mohammed Shia al-Sudani in Baghdad to highlight the importance of strategic cooperation between the two nations regarding progress and security in the West Asia region.
Emphasizing Iran's readiness to help promote security, stability, and progress in Iraq, Shamkhani highlighted that Iraq's unity, integration, and strength would guarantee stability in the region.
During his visit to Iraq, Shamkhani signed a joint security cooperation document with Iraqi officials, commenting that "the relations will move towards comprehensive development" with the full implementation of the agreement.
He stressed the importance of swiftly implementing agreements to activate joint economic projects, particularly the railway project between Shalamcheh and Basra.
Shamkhani warned against any disruption to peace and security in the common Iran-Iraq border areas and called for decisive action against any internal or external crisis-causing elements.
Additionally, Shamkhani emphasized the need to follow up and implement agreements reached by the two sides, particularly to end "acts of mischief" by armed counter-revolutionary elements and groups as well as the military and espionage threats of the American forces in Iraq, stressing, "We should not allow the two countries' interests to fall victim to the US' mischief and its terrorist mercenaries."
Sudani thanked Shamkhani for Iran's support and emphasized that the Iraqi government will not allow any third party to use Iraqi soil to undermine Iran's security, adding, "Martyrs General Soleimani and Abu Mahdi al-Muhandis are other examples of the two nations of Iran and Iraq being together."
Shamkhani also met with his Iraqi counterpart, Qassim al-Araji, and discussed the importance of implementing security agreements that will decrease terrorist threats, prepare the ground for fostering bilateral ties, and guarantee stability in the region and improve the security conditions in joint borders.
Araji also congratulated Shamkhani on the Tehran-Riyadh agreement to resume diplomatic ties and said Baghdad is fully prepared to help fulfill the agreements between the two countries.