Thousands Gather in Swiss Capital Demanding Stronger Climate Action (+Video)
October, 01, 2023 - 13:56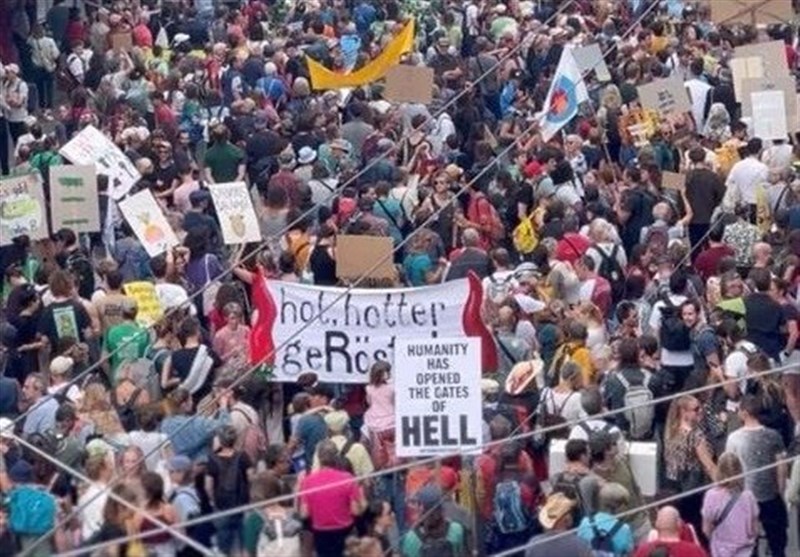 TEHRAN (Tasnim) – Over 60,000 protesters convened in the Swiss capital, Bern, on Saturday, calling for more robust measures to combat climate change, according to organizers.
This substantial gathering, a rarity in Switzerland, highlights the increasing public frustration with the slow progress in climate policy, despite ample evidence of its consequences.
Switzerland has witnessed a 10% reduction in its glaciers over the past two years, and September recorded its highest temperatures on record, with the country warming at twice the global average rate.
"Many have been losing hope because the government is approving new roads and delaying the climate law. But today we were powerful," stated Georg Klingler, a participant in the march and representative of the environmental organization Greenpeace.
The Green Party, which saw an increase in its presence during the previous parliamentary election but still lacks representation in the ruling cabinet, estimated that more than 60,000 people participated in the protest. However, a spokesperson for Bern's police declined to provide an official estimate.
The Green Party emphasized, "Parliament, with its bourgeois majority, is preventing rapid, consistent, and effective climate protection." They further underscored the need for change in the upcoming legislative poll on October 22.
Switzerland's current climate policies have been deemed "insufficient" by the research consortium Climate Action Tracker. In June, Swiss voters approved a draft climate law aimed at achieving net-zero emissions by 2050, using financial incentives to encourage both businesses and consumers to transition to renewable energy sources. Nevertheless, the government has declared that the law will not be enforced until 2025.