Snowden Granted 1-Year Asylum in Russia, Leaves Airport
TEHRAN (Tasnim) – NSA whistleblower Edward Snowden has been granted temporary asylum in Russia and is allowed to enter the country's territory.
The whistleblower has been granted temporary asylum in Russia, Snowden's legal representative Anatoly Kucherena said, with his words later confirmed by Russia's Federal Migration service.

"I have just handed over to him papers from the Russian Immigration Service. They are what he needs to leave the transit zone," he added.

Kucherena showed a photocopy of the document to the press. According to it, Snowden is free to stay in Russia until at least July 31, 2014. His asylum status may be extended annually upon request, RT reported.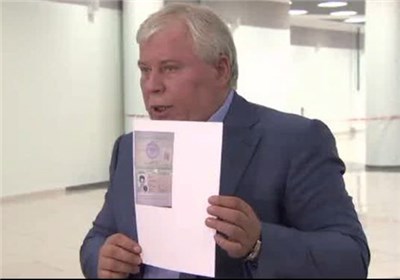 With his newly-awarded legal status in Russia, Snowden cannot be handed over to the US authorities, even if Washington files an official request. He can now be transported to the United States only if he agrees to go voluntarily.
Snowden, a former CIA employee and NSA contractor, came to international prominence after leaking several classified documents detailing massive electronic surveillance by the US government and foreign allies who collaborated with them.
Snowden was hiding out in a Hong Kong hotel when he first went public in May. Amidst mounting US pressure on both Beijing and local authorities in the former-British colony to hand the whistleblower over for prosecution, Snowden flew to Moscow on June 23.
Moscow was initially intended as a temporary stopover on his journey, as Snowden was believed to be headed to Ecuador via Cuba. However, he ended up getting stranded at Sheremetyevo Airport after the US government revoked his passport. Snowden could neither leave Russia nor enter it, forcing him to remain in the airport's transit zone.
In July, Snowden applied for temporary asylum in Russia, a status that would allow him to live and work in the country for one year. Kucherena earlier said the fugitive whistleblower is considering securing permanent residency in Russia, where he will attempt to build a life.