Egypt's Muslim Brotherhood Calls for Fresh Rallies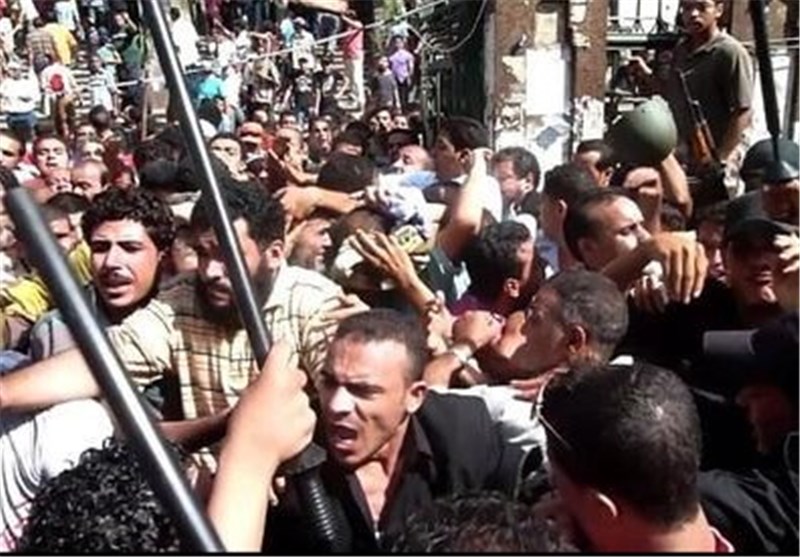 TEHRAN (Tasnim) - Egypt's Muslim Brotherhood called for fresh demonstrations after police ended a tense standoff with protesters in a Cairo mosque.
A statement by the Anti-Coup Alliance said several marches would take place in the Egyptian capital on Sunday afternoon, continuing the daily campaign of protests in defiance of an intensifying crackdown, Aljazeera reported.
Meanwhile, Egypt's cabinet is set to discuss the crisis in the country.
Security forces on Saturday dragged Muslim Brotherhood supporters of Mohamed Mursi, the deposed president, from the Fateh Mosque, passing through angry crowds who called them "terrorists" and tried to beat them.
Authorities later said about 250 protesters were being investigated for murder, attempted murder and so-called "terrorism".
The clashes came as the government said the death toll from violence natiowide had risen to more than 750 since Wednesday, when police cleared two camps of Mursi loyalists in Cairo.
In a related development, Adly Mansour, the interim president, has put forward a proposal to legally dissolve the Muslim Brotherhood.
Its members are also supporters of Mursi, whose overthrow on July 3 as president prompted the Cairo sit-ins.
Meanwhile, international criticism of the bloodshed has mounted, with Germany and Qatar jointly condemning the "brutal violence" and Ban Ki-moon, the UN chief, urging "maximum restraint" and "de-escalation" at what he termed a "dangerous moment" for Egypt.
The siege of the Fateh Mosque near Ramses Square began on Friday, with security forces surrounding the building where Muslim Brotherhood supporters were sheltering and trying to convince them to leave.
The pro-Mursi group had lined up the bodies of dozens of protesters who had been killed on Friday inside the mosque-turned-morgue.
By Saturday afternoon, the situation turned violent, with witness accounts at the scene saying armed men inside the mosque were trading fire with police outside.