Karzai Calls For Head-To-Head Race in Afghan Election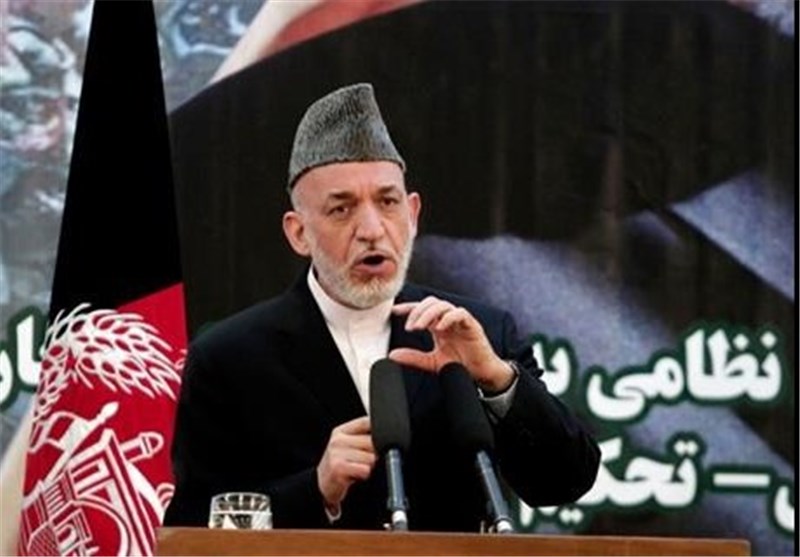 TEHRAN (Tasnim) - Afghan President Hamid Karzai on Saturday called for next year's crucial election to be head-to-head contest between two candidates, and named three possible runners in the wide-open race.
The April 5 election to succeed Karzai, who has ruled since the Taliban hardliners were ousted in 2001, is seen as the key test whether 12 years of massive international military and aid intervention has been worthwhile.
"My desire is that we should have a limited number of candidates as this is good for the country," Karzai told a press conference in his palace gardens. "In the United States there were only two candidates.
"If we have two presidential candidates, it would be better, but if we had four that is also not a problem," AFP reported.
After serving two terms, Karzai must stand down next year for an election that will be the first ever democratic transfer of power in Afghanistan. But there is widespread uncertainty over who and how many people will run.
More than 40 candidates stood in the chaotic 2009 election, which was marred by massive fraud and delays until Karzai emerged triumphant.
Karzai named controversial former warlord Abdul Rasul Sayyaf, 2009 runner-up Abdullah Abdullah and former finance minister Ashraf Ghani as possible candidates.
"There are others as well, I don't want to leave any names unmentioned but it is not possible for me to mention them all," he said.
Other potential runners include Qayum Karzai, the president's brother, Omar Daudzai, the current ambassador to Pakistan, and former interior minister Ali Ahmad Jalali.