IRGC Commander: US Unable to Control Reactions to Intervention in Syria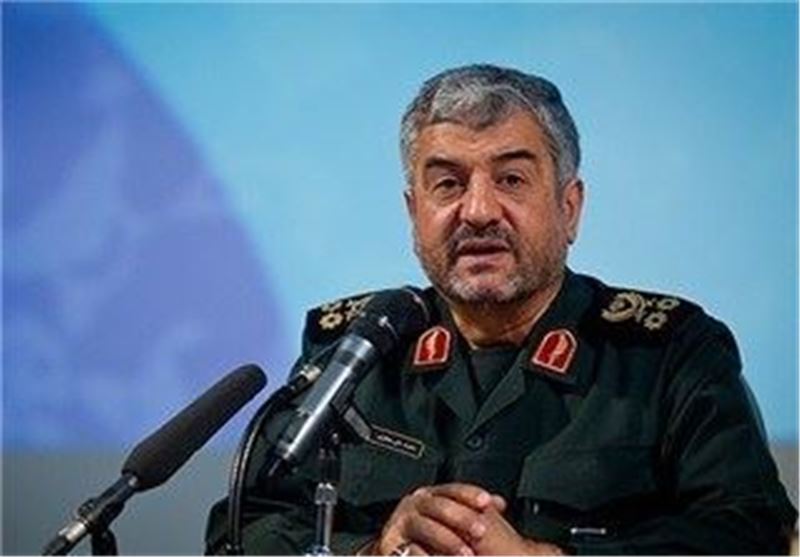 TEHRAN (Tasnim) – Reactions to a possible US military intervention in Syria would be beyond the White House's control, Commander of the Islamic Revolution Guards Corps (IRGC) Major General Mohammad Ali Jafari said, adding that the crisis could affect Israeli regime too.
Speaking on the sidelines of a Saturday meeting of Iran's Supreme National Security Council here in Tehran, the IRGC commander described Washington's assumption of being able to confine the consequences of its possible military attack to the Syrian boundaries as a "delusion", and stated, "Reactions will be far beyond the Syrian borders."
The idea of intervention in Syria and a military attack limited to that country was raised after the White House officials "failed to form a coalition" to wage a new war that could have affected the whole region, he added.
Jafari further described the war and insecurity as "uncontrollable" events, and added, "Waging a war close to the Zionist regime (of Israel) would increase the potential for the crisis to spill over into Israel."
"Those who partner the US in the (military) intervention will face imminent crises in their national security," the Iranian commander warned.
He also called on "warmongering countries" to learn lessons from the aftermath of previous military campaigns against regional Islamic countries, namely Iraq and Afghanistan, and stated, "As the US military intervention in the Islamic world has so far resulted in expansion of extremism, violence and terrorism, invading Syria will also intensify the trend of expansion of extremism."
In separate remarks on Wednesday, Major General Jafari had warned the US about severe consequences of any military intervention in Syria, and stressed that the possible war in Syria will result in imminent destruction of the Zionist regime of Israel.
He has pointed to the recent US war rhetoric against Syria, and stated that Washington and its allies have resorted to "direct military threat" against Damascus after the Syrian nation defeated their "proxy war scenario."
He warned the US about severe consequences of a possible military intervention in Syria, and stated, "Despite their bitter experiences in Iraq and Afghanistan, Americans will complete their consecutive failures and experience the most shameful historic defeat if they conduct military action against Syria."