Polls Underway in Germany's General Elections
TEHRAN (Tasnim) - Germans are voting on Sunday in national elections set to hand Chancellor Angela Merkel a third term but potentially force her into governing with her main rivals.
September, 22, 2013 - 10:44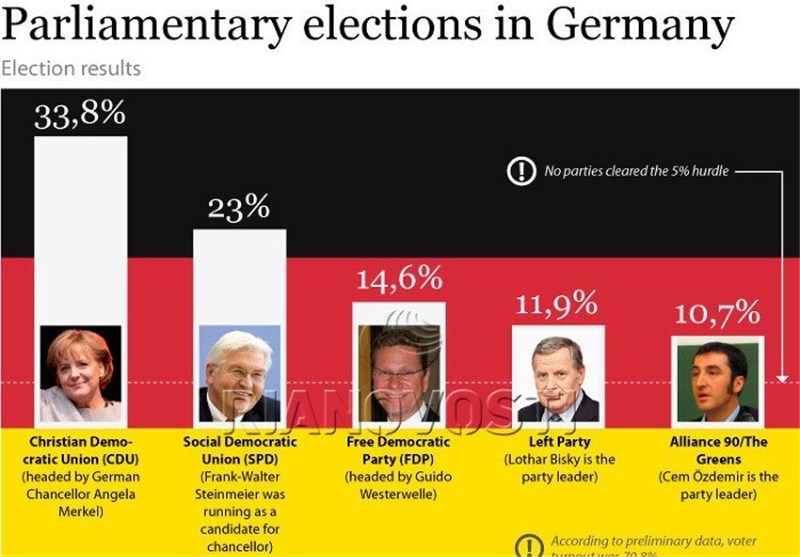 Polls opened at 8:00 am (0600 GMT) with nearly 62 million voters called to cast ballots in Europe's top economy. Initial television estimates are expected shortly after booths close at 1600 GMT.
Merkel is poised to win a third term, making her Europe's only major leader to survive its financial crisis but potentially forced into governing with her main rivals, Al Jazeera reported.
After shepherding Europe's top economy through the debt turmoil, Merkel emerged more popular than ever due to her reassurance as the crisis felled leaders in France, Greece, Italy and Spain.
Pollsters suggest that voters will re-elect the 59-year-old, whose nickname "Mutti" ("Mummy") can seem incongruous with her other often-used description as the world's most powerful woman.
But the burning question will be with whom she will govern.
"Rarely was it so close. Merkel's coalition only has a razor-thin majority in the polls," the Sueddeutsche Zeitung daily said, adding that many of the near 62 million voters only make up their minds at the last minute.
Merkel boasts her current centre-right coalition has been Germany's most successful since reunification in 1990, enjoying a robust economy and a jobless rate of less than seven per cent.
But her stated aim for her conservative Christian Democratic Union (CDU) to stay in power with its junior partners, the pro-business Free Democratic Party (FDP), hinges on the smaller party's unpredictable fortunes.