Gunmen Holed Up with Hostages in Nairobi Siege, 59 Dead
TEHRAN (Tasnim) – Militants were holed up with hostages on Sunday at a shopping mall in Nairobi, where at least 59 people have been killed in an attack by the al Shabaab group that opposes Kenya's participation in a peacekeeping mission in neighboring Somalia.
September, 22, 2013 - 17:29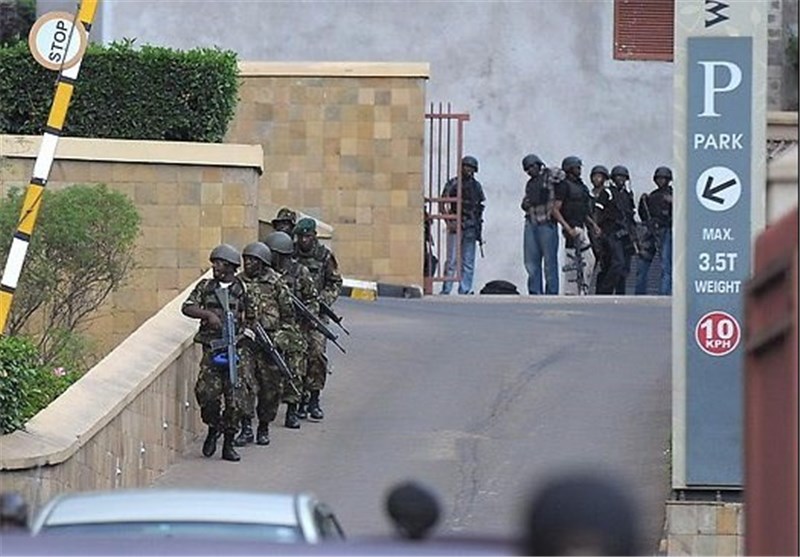 A volley of gunfire lasting about 30 seconds interrupted a stalemate of several hours, a Reuters witness said, speaking from close to the shopping center.
Foreigners, including two diplomats - one from Canada and another from Ghana - were killed in Saturday's attack at Westgate mall, claimed by the Somali group al Shabaab.
Shortly after the shots were fired, troops in camouflage ran crouching below a restaurant terrace along the front of the building that had been buzzing with customers when assailants charged in.
For hours after the brazen attack, the dead were strewn around tables of unfinished meals. At one burger restaurant, a man and woman lay in a final embrace after they had been killed, before their bodies were removed.
Scores of Kenyans gathered at a site overlooking the mall, awaiting what they expected to be a violent denouement. "They entered through blood, that's how they'll leave," said Jonathan Maungo, a private security guard.
President Uhuru Kenyatta, facing his first major security challenge since a March election, said some of his close family members were among the dead, and vowed to defeat the militants.
"We have overcome terrorist attacks before," he said.
The assault was the biggest single attack in Kenya since al Qaeda's East Africa cell bombed the US Embassy in Nairobi in 1998, killing more than 200 people. In 2002, the same militant cell attacked an Israeli-owned hotel on the coast and tried to shoot down an Israeli jet in a coordinated strike.