Egyptians Irked by Official Bid to Curb Protests
TEHRAN (Tasnim) - Disparate political groups, together with human rights organizations, have united in vocal opposition to proposed new rules that would make it all but impossible to stage a large-scale march or rally, unless its purpose was to glorify the government or the army.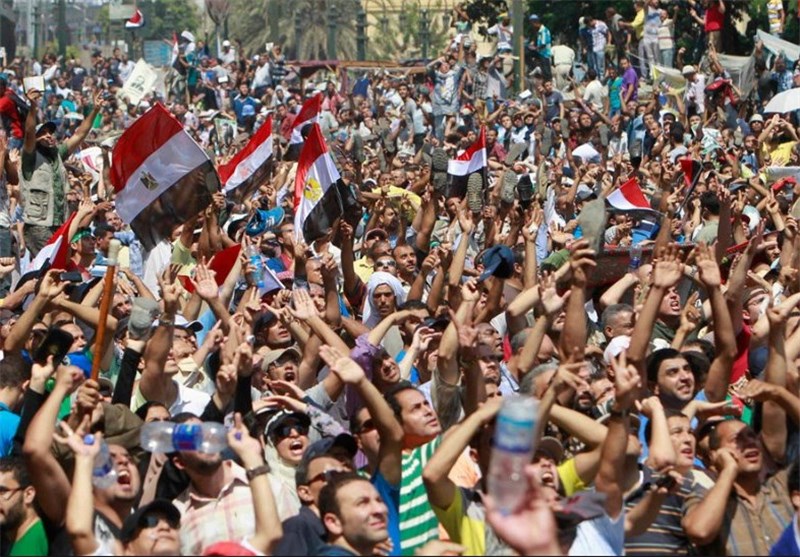 The measure, whose outlines were reported by state media this week, has been approved by the Cabinet, though interim President Adly Mansour has yet to sign it into law.
Under the measure, would-be demonstrators would have to report their plans in advance to law enforcement officials, who could forbid, postpone or order the relocating of any gathering. In addition, authorities could decree no-protest zones around public buildings and other key sites, including the presidential palace.
In Egypt, where street protests became embedded in popular culture with the uprising that overthrew autocratic president Hosni Mubarak in 2011, commentators across the spectrum said peaceful demonstrations were now regarded by most Egyptians as a political birthright -- too late, in other words, to put the genie back in the bottle, The Los Angeles Times reported.
The current military-backed government, however, has reacted harshly to street protests, frequently firing live ammunition at unarmed marchers. Less than two weeks ago, 57 demonstrators were killed in a single day, most of them from gunshots, when rival groups staged rallies on Egypt's Oct. 6 army day.
The Muslim Brotherhood, which is demanding the reinstatement of deposed Islamist president Mohammed Mursi has absorbed the brunt of the security forces' armed response to civil unrest. Nearly 1,000 of Mursi's followers were killed in mid-August when police and soldiers violently broke up protest camps set up in the capital and elsewhere.
But even those who cheered the Brotherhood's downfall say banning demonstrations is not the answer. One of the latest grass-roots political movements to weigh in with strong objections is Tamarod, or Rebel, which was a driving force behind the summer's enormous public rallies that spurred the army to oust Mursi on July 3.
"Any law that limits the rights of peaceful protesting ... is unjust," said Tamarod spokesman Mohammad Abdelaziz. Other major factions or parties coming out against the law include the April 6 movement, which helped bring down Mubarak, and Nour party. Human rights groups have also denounced the restrictions.
Authoritarian actions by the Egyptian government have become a serious point of contention with Western governments, including the Obama administration. The US earlier this month suspended some military aid as a sign of displeasure with the crackdown against the Brotherhood and what American officials have described as other measures incompatible with democracy.
With most of the country shut down for the past week for the feast of Eid al-Adha, one of the year's main Muslim holidays, commentators took to social media to fume about the proposed restrictions.
"You do not go into the streets after this law!" exclaimed a well-known blogger whose Twitter handle is Zeinobia. A former parliamentarian, Mostafa El-Naggar, went on Facebook to liken the draft measure to the offspring of a union of Mubarak and the Brotherhood.
"Regulating protests in Egypt is wishful thinking," analyst Amro Ali tweeted.
After Friday's noon prayers, often a lightning rod for protests, authorities as usual kept a tight lid on attempted assemblies by Mursi backers. Sensitive sites were cordoned off by phalanxes of police and soldiers, with armored personnel carriers blocking streets leading to iconic protest venues such as Cairo's Tahrir Square.