Supporters Call for Protests over Mursi Trial
October, 24, 2013 - 15:51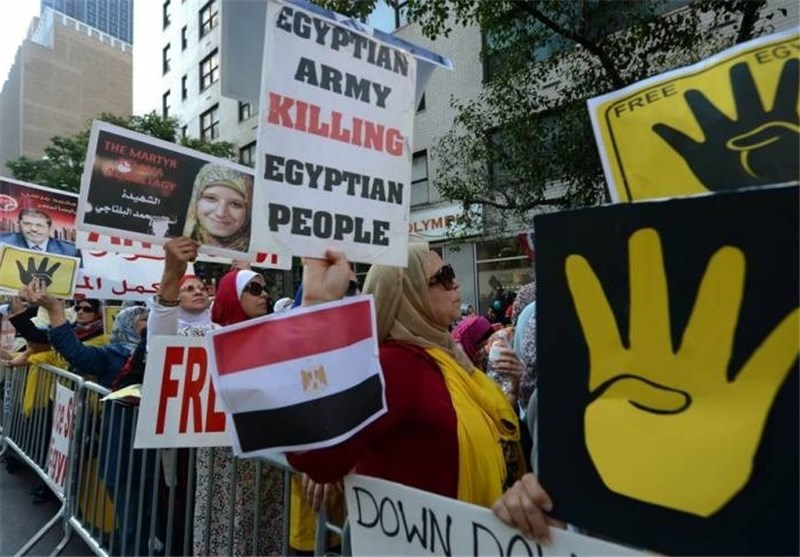 TEHRAN (Tasnim) - Supporters of deposed President Mohamed Mursi called on Egyptians to hold mass protests on November 4, the day he goes on trial.
The trial could further inflame tensions between Mursi's Muslim Brotherhood and the army-backed government and deepen the instability that has decimated tourism and investment in the most populous Arab state.
Army chief Abdel Fattah al-Sisi overthrew Mursi in July after mass protests against his rule and announced a political roadmap he said would lead to free and fair elections.
Backers of Mursi, Egypt's first freely elected president, say his removal was a coup, reversing the gains of the popular uprising which toppled autocrat Hosni Mubarak in 2011.
"The Alliance notes that the coup organizers would like to break the people's and the revolution's will by trying Dr. Mohamed Mursi, the President of the Republic, and his associates, this coming November 4th," a pro-Mursi grouping that includes the Brotherhood said in a statement, Al Arabiya reported.
"The Alliance also calls on all free people in Egypt and abroad to stand by the revolutionary will opposing the military coup, and that all activities should be - as they always have been - within peaceful bounds that define our methods and strategy."
A judge has said Mursi and other Brotherhood members have been charged with "inciting the killing and torture of protesters in front of the Etihadeya (presidential) palace".
The charges relate to the deaths of about a dozen people in clashes outside the presidential palace last December after Mursi enraged protesters with a decree expanding his powers.
Mursi has been held in a secret location since his overthrow on July 3. Since then, Egypt has been rocked by almost daily attacks by militants in the Sinai Peninsula and clashes between supporters and opponents of the Brotherhood.
Hundreds of Brotherhood members have been killed and top leaders have been jailed in one of the toughest security crackdowns in the movement's history.
Mursi's followers accuse the government of becoming increasingly authoritarian and taking the country back to the days of Mubarak, who ruled with an iron fist for three decades.
Security sources said Mursi was expected to be tried at a Cairo police institute near Tora, Egypt's most notorious prison, which held Mubarak until he was moved to house arrest in August.