Students Protest in Egypt after Authorities Arrest Brotherhood Leader
October, 31, 2013 - 13:44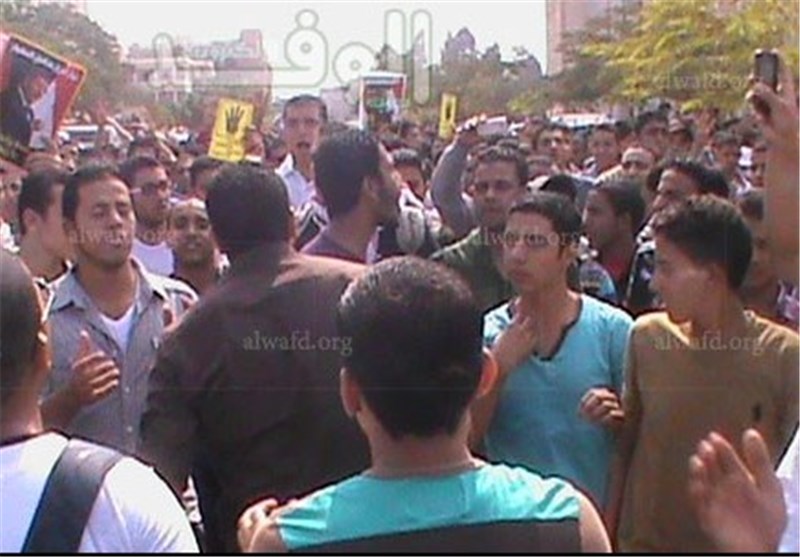 TEHRAN (Tasnim) - Egyptian police fired tear gas at protesting students at Cairo's al-Azhar university on Wednesday hours after authorities announced the detention of Muslim Brotherhood leader Essam El-Erian, part of a crackdown against the Islamist movement.
Erian, deputy leader of the Brotherhood's Freedom and Justice party, was taken into custody from a residence in New Cairo, a suburb on the outskirts of the capital, where he had been in hiding, an interior ministry source told Reuters.
At the al-Azhar university's main campus, students smashed windows, hurled chairs and covered walls of an administrative building with graffiti.
"Sisi is a dog. Down, down with the lord of the army," one protester scribbled, referring to army chief General Abdel Fattah al-Sisi, who led the overthrow of President Mohamed Mursi in July.
One police officer yelled: "Arrest anyone you see. Bring me those kids. If you see anyone just arrest them right away."
Over 20 students were arrested, according to two security sources, Reuters reported.
Students at Egypt's top institution for Islamic teachings have demonstrated for weeks in support of Mursi, who was toppled by the army after mass protests against his rule.
The deputy prime minister said in a statement that the government was committed to reconciliation. He accused the Brotherhood of undermining efforts to resolve political turmoil.
"Those who are until now rejecting or stalling any understandings aimed at achieving reconciliation and stability for the Egyptian people are the leaders of the Muslim Brotherhood," Ziad Bahaa El-Din said.
Brotherhood officials, of whom many are either jailed or on the run, were not immediately available for comment.
Many Brotherhood leaders have been detained since the overthrow of Mursi, Egypt's first freely elected president. He, Erian and 13 other Brotherhood leaders are expected to go on trial on Monday on charges of inciting violence.
The charges relate to the deaths of about a dozen people in clashes outside the presidential palace last December after Mursi enraged protesters with a decree expanding his powers.
The trial of three senior Muslim Brotherhood leaders on charges of inciting violence was halted on Tuesday after the judge withdrew from the case.
Although he did not spell out his reasons, in similar situations in the past judges have complained there was a lack of evidence, procedures were illegal or that the cases were politically motivated.
The trials are likely to create more upheaval in Egypt, the most populous Arab nation, which controls the Suez Canal, a vital global trade route.