Israeli Strikes Kill Four Palestinians in Gaza Strip
TEHRAN (Tasnim) - Israeli air strikes and tank fire killed four Palestinians and injured some others in the southern Gaza Strip, officials from both sides said.
November, 01, 2013 - 12:31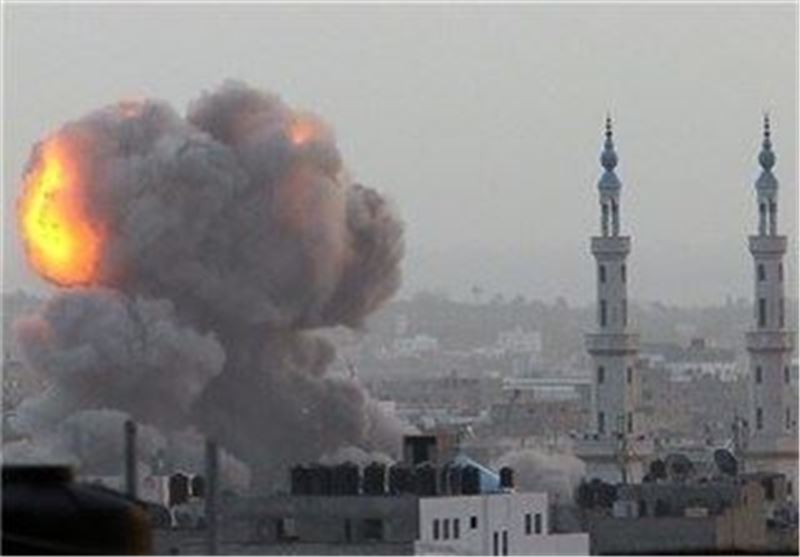 An Israeli air strike killed three people in the Gaza Strip on Friday, Hamas said, after an overnight clash left a fourth Palestinian dead and five Israeli soldiers wounded.
It was the worst violence between Israeli and Palestinians in the coastal enclave since a ceasefire was agreed last November at the end of an eight-day confrontation.
A Hamas source said three of its men were in an Israeli airstrike on a tunnel.
Hours earlier, one Palestinian militant was killed and five Israeli soldiers wounded after violence broke out when Israeli forces detonated part of a separate tunnel that they had recently uncovered stretching from Gaza into Israel.
The local commanders of Hamas' military wing were killed by tank fire, Palestinian officials said on Friday, while the Israeli army said five of its soldiers were wounded by an explosive device, Al Jazeera reported.
The officials said all were local commanders of Hamas's Ezzedine al-Qassam military wing.
The group said on October 20 that it dug the tunnel as part of a plan to kidnap Israeli soldiers and hold them in exchange for Palestinians held in Israeli prisons.
"We are working on the ground and under the ground to release the prisoners" held by Israel, the group's spokesman Abu Obeida said at the time.
The Reuters news agency reported that Israeli tanks had entered Gaza, remaining there for several hours before clashes erupted, during the attack.
Witnesses told Al Jazeera that the Israeli artillery was aimed at farmers' houses, while Hamas said that an Israeli helicopter also fired rockets in the area.
Meanwhile, Palestinian Authority Foreign Minister Riyad al-Malki on Thursday denounced Israeli plans to build hundreds of new settler homes in Jerusalem, threatening to pursue international legal action in response.
Israel announced on Wednesday it would build 1,500 new settler homes in the mostly Arab sector of East al-Quds (Jerusalem,) immediately after releasing 26 Palestinian prisoners in line with its commitments to US-backed peace talks.
"The foreign ministry is seriously looking at turning immediately to international courts and organisations, and filing the necessary complaints in order to stop settlement building," Malki said.
He condemned "plans approved by Prime Minister Benjamin Netanyahu for settlement building, and Netanyahu's attempts to link the settlement issue with the prisoners issue."