President Rouhani: Uranium Enrichment among Iran's Red Lines
TEHRAN (Tasnim) – Iranian President Hassan Rouhani said the Islamic Republic has a number of red lines, among which are the nation's nuclear rights, including uranium enrichment inside the country.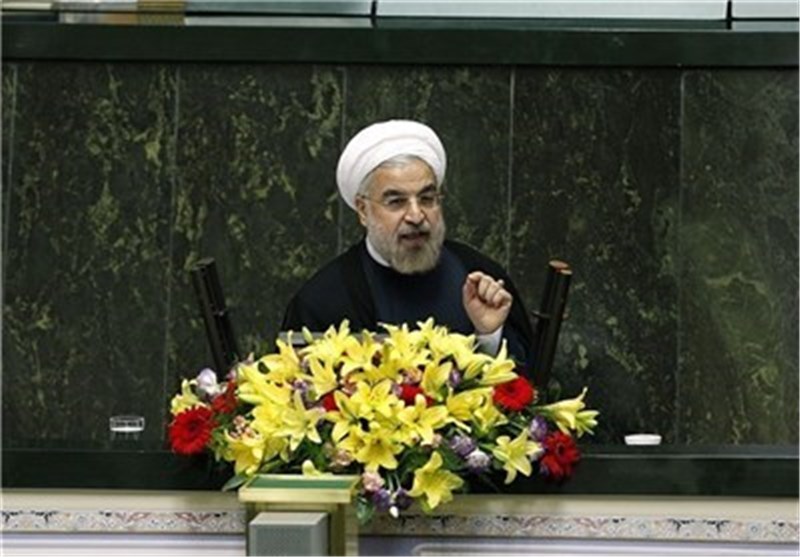 Speaking in the Iranian parliament on Sunday, President Rouhani reaffirmed that the country's red lines cannot be crossed.
"The Iranian nation's rights is our redline," he said.
"The rights of the Iranian nation and our national interests are a red line. So are nuclear rights under the framework of international regulations, which include enrichment on Iranian soil," President Rouhani told told parliament.
He once again stressed that Iran pursues merely "peaceful nuclear technology for development, not for threatening others."
Pointing to the negotiations between Tehran and six major world powers in Geneva, President Rouhani said Iran attends nuclear talks to prove that it wants nuclear technology for peaceful purposes only.
"We consider the sanctions as illegal, and regard that as a useless solution, and we have not sat at the negotiating table due to the pressure of sanctions," President Rouhani stated.
Top negotiators from Iran and the Group 5+1 (also known as P5+1, the five permanent UN Security Council members plus Germany) wrapped up three days of intensive talks over Tehran's peaceful nuclear program in the Swiss city of Geneva early on Sunday.
The latest talks began on Thursday, with US Secretary of State cutting short his Middle eastand North Africa trip to go to Geneva on Friday to help bridge differences and secure an agreement. From the time he arrived in Geneva, Kerry played down expectations of a deal.
French Foreign Minister Laurent Fabius, British Foreign Secretary William Hague and their counterparts from Russia and Germany, Sergei Lavrov and Guido Westerwelle, also attended, along with Chinese Vice Foreign Minister Li Baodong, raising hopes that an agreement on Iran's nuclear program was finally within reach.
Failing to agree on a deal, the sides have agreed to resume talks on 20 November, again in Geneva.
Iranian Deputy Foreign Minister for Legal and International Affairs Abbas Araqchi had also stated on October 31 that the country's 20-percent uranium enrichment was not the subject of discussion between Tehran and IAEA in Vienna talks in October.
"As there have been some misgivings, and consequently some concerns, over Iran's nuclear program, we decided to expand our cooperation with the IAEA to address the misgivings; some of the adopted measures are beyond the Safeguards Agreement, but as we are sure of the peaceful nature of our nuclear program, we decided to cooperate to allay the unfounded concerns," he said.
Iran, one of the original states to sign the Nonproliferation Treaty, completed its Safeguards Agreement with the IAEA in 1974. Areas covered include the application and implementation of safeguards, materials control, provision of information to the IAEA, and the non-application of safeguards to nuclear material to be used in non-peaceful activities.