Massive Rally Held in Egypt against Military Rule
TEHRAN (Tasnim) - Thousands of protesters took to the streets in different parts of Egypt, calling for an end to the military rule, as well as the reinstatement of ousted President Mohamed Mursi.
November, 12, 2013 - 17:59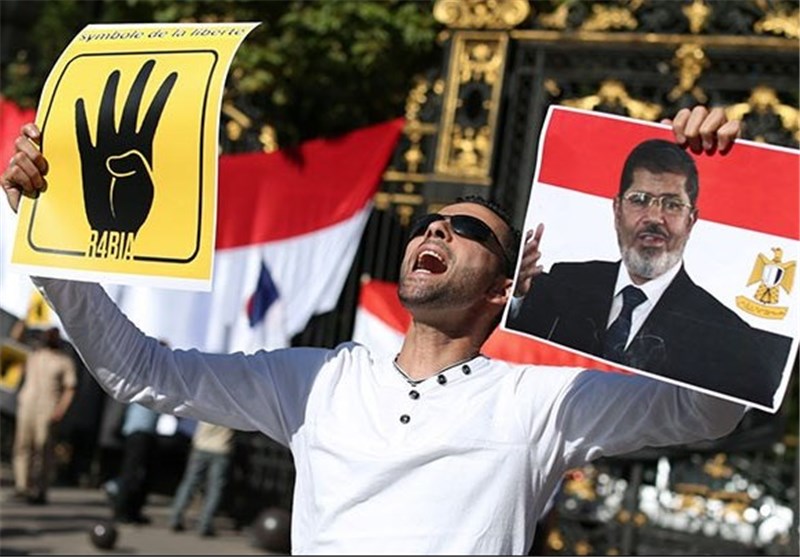 The rallies were staged in different cities in the country, including Shubra, Matreh, and Almenia on Tuesday.
During the demonstrations, protesters expressed support for the ousted president and called for his return to power. They also chanted slogans against Egyptian Defense Minister Abdul Fattah al-Sisi.
General Fattah al-Sisi, also the head of the Egyptian armed forces, toppled Mohamed Mursi in a "military coup," On July 3, suspended the constitution and dissolved the parliament. On the following day, he appointed the head of the Supreme Constitutional Court, Adly Mahmoud Mansour, as the new interim president.
The protesters slammed the military-backed interim government for its 'violent clampdown on the Muslim Brotherhood and the arrest of the group's leaders and members.'
According to Press TV correspondent, a pro-Mursi protester was shot dead in the Canal city of Portsaid in the early hours of Tuesday. Mossaad was a journalist, who presented religious TV programs.
Tuesday protests come days after fierce clashes between the protesters and the security forces in the city of Suez.
On November 8, at least two people, including a child, were killed and several others injured during the demonstrations in Suez and its adjacent areas.
Egypt has been the scene of weekly demonstrations staged by Mursi's supporters since his ouster early in July.
Nearly 1,000 people were killed in August after the government of army-appointed interim President Adly ordered a fierce clampdown on Mursi supporters.