Tribal Elders Discuss US-Afghan Security Pact
November, 21, 2013 - 12:34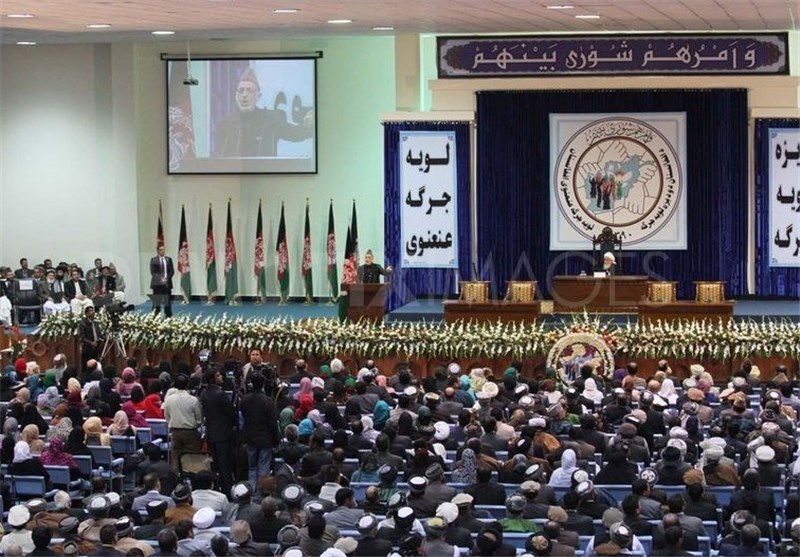 TEHRAN (Tasnim) - Thousands of tribal elders are meeting in Kabul to decide on the role of American troops after the bulk of US forces pull out of Afghanistan next year.
More than 2,500 delegates from the country will meet over three days to reach a consensus on how many American soldiers will be left in the country after the withdrawal, and also on the questions of immunity and jurisdiction of operations carried out by foreign forces.
The convening of the grand council or Loya Jirga, a traditional Afghan institution in place for centuries, follows an announcement by the US that it has reached a deal with the Kabul government on a security pact, Al Jazeera reported.
The text of this Bilateral Security Agreement (BSA) must be ratified by the Loya Jirga delegates and the Afghan parliament before it can be signed by President Hamid Karzai.
According to the full text of a draft agreement published late on Wednesday night by the Afghan Foreign Ministry, the US will have "the exclusive right" to try its soldiers accused of crimes in Afghanistan, and will maintain several bases in the country.
John Kerry, US secretary of state, said soon after its publication that a final text had been approved by both nations, but declined to comment on the details.
Article 13 of the Afghan draft, described as a pre-decisional document, "authorises the United States to hold [civil and criminal] trial in such cases, or take other disciplinary action, as appropriate, in the territory of Afghanistan".
US forces will not conduct military operations in Afghanistan "unless mutually agreed" the text says.
Speaking to Al Jazeera from Kabul on Thursday, Daoud Sultanzoy, an Afghan politician, said: "The US is not looking for bases. They are just looking for capabilities so that they can train and advise our troops and upgrade their capacity. We need America's political, military and non-military support in the region so that Afghanistan can stabilise."
An annexe in the security pact states that nine facilities will continue to be provided by Afghanistan to the US.
Among those facilities is the Kandahar Air Force Base, capable of housing more than 200 military aircraft.
The issue of jurisdiction has been a sticking point in the BSA negotiations, with the US refusing to allow Afghanistan to charge and try US troops for alleged crimes committed on Afghan soil.