Deputy FMs of Iran, World Powers to Meet on 4th Day of Geneva Talks
November, 23, 2013 - 10:40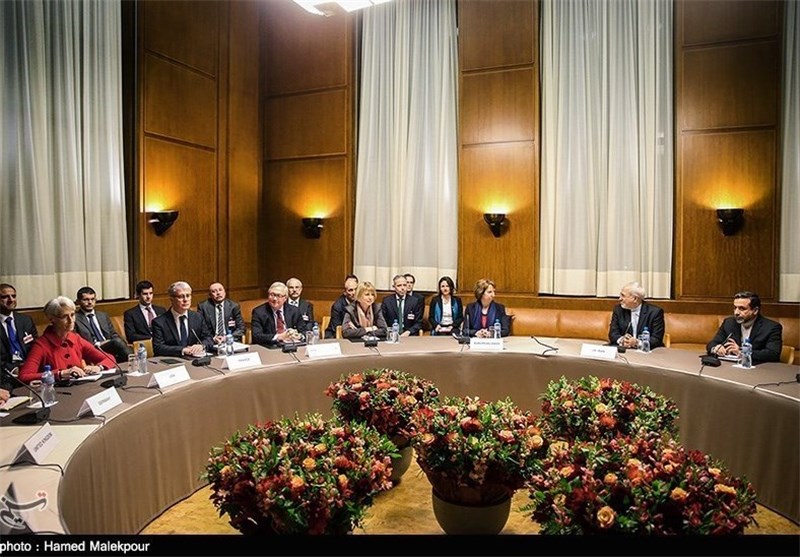 TEHRAN (Tasnim) – A meeting among deputies foreign minister of Iran and the six major world powers will mark the beginning of the fourth consecutive day of talks over Tehran's nuclear program in the Swiss city of Geneva on Saturday morning.
Senior diplomat representing Iran and the five permanent UN Security Council members plus Germany, which is known as the G5+1 or P5+1 in diplomatic shorthand, kicked off their latest round of negotiations on Tehran's nuclear program on Wednesday in Geneva.
But the intensive talks stretched into the fourth day, as deputies foreign minister from both sides are preparing to hold a forthcoming meeting at 8:30 am Geneva time (11 am Tehran time).
Iran's Deputy Foreign Minister for Legal and International Affairs Seyed Abbas Araqchi, along with Deputy Foreign Minister for European and American Affairs Majid Takht Ravanchi are going to attend the upcoming meeting on behalf of the Islamic Republic.
The session is reportedly to involve expert discussions over the remaining differences between the two sides.
Over the past three days, Iranian Foreign Minister Mohammad Javad Zarif and EU foreign policy chief Catherine Ashton have held several sessions of meetings with the aim of reaching an agreement to help end the 10-year standoff over Iran's peaceful nuclear activities.
Meanwhile, foreign ministers of the six powers –Russia, the US, China, France, Britain and Germany – are to join the talks in Geneva, something that could signal a nuclear deal was imminent.
Russian Foreign Minister Sergei Lavrov flied to the Swiss city on Friday afternoon and held a meeting with Zarif and later with Ashton.
US Secretary of State John Kerry and French Foreign Minister Laurent Fabius have also arrived in Geneva, while British Foreign Secretary William Hague, German Foreign Minister Guido Westerwelle, as well as Chinese Foreign Minister Wang Yi are scheduled to join the talks later today.
Kerry's goal is to "help narrow differences and move closer to an agreement," a State Department spokeswoman said.
This comes after a day in which diplomats appeared more and more optimistic that a deal could be struck. Iran's foreign minister said on Friday there was 90-percent progress in the course of the nuclear negotiations between Iran and the sextet of world powers.
This is the second time in a month that the Swiss city of Geneva is hosting representatives from Iran and the group of six major world powers. They had three days of intensive talks on November 7-9.
During the previous round of talks, the two sides managed to narrow their differences on Iran's peaceful nuclear program, though there were hitches that stopped them from reaching an interim deal at the end of the talks.