Hague Says N. Talks Face Narrow, but Important Gaps
November, 23, 2013 - 15:13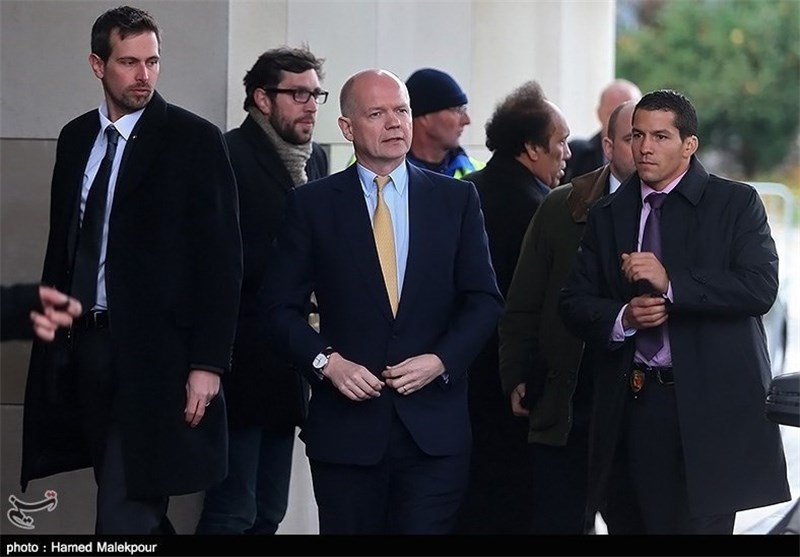 TEHRAN (Tasnim) – British Foreign Secretary William Hague who is in Geneva amid high hopes that an historic deal may be clinched on Iran's nuclear program warned of the remaining narrow gaps and difficult negotiations.
William Hague arrived in Geneva on Saturday morning to join the other foreign ministers representing the Group 5+1 (also known as P5+1 or E3+3) in negotiations on Iran's nuclear program.
Speaking to reporters upon arrival in the Swiss city, Hague said, "They remain very difficult negotiations, I think it's important to stress that. We're not here because things are necessarily finished, we're here because they're difficult and they remain difficult."
"There are narrow gaps but they are important gaps. It's very important that any agreement is thorough, that it is detailed, that it is comprehensive, and that it is a deal in which we can all - the whole world - have confidence that it can work and it will be observed," Hague added.
Hague, whose country has a huge arsenal of nuclear weapons, claimed that Iran's nuclear program was one of major "causes of instability in the Middle East and in world affairs," signaling a shift in tone from previous days.
On Wednesday, he said that a nuclear deal with Iran was within reach as differences between Tehran and the five permanent members of the UN Security Council plus Germany were narrow.
"The differences that remain between the parties are narrow and I believe they can be bridged with political will and commitment," Hague told a news conference in Istanbul, adding "there is an opportunity here to make an agreement."
The United States and its western allies have suggested they are ready to ease some sanctions in return for a first-step deal that starts to put limits on Iran's nuclear program, but they insist that the stringent sanctions that have targeted Iran's oil and financial sectors are to remain intact in the first stage that is going to last six months.
They say Iran would get modest but "reversible" sanctions relief, including access to several billion dollars in oil revenues and easing trade restrictions on precious metals and aircraft parts.
Iran insists it holds a right to enrich uranium for peaceful purposes. Diplomats indicated a compromise that would recognize this right internationally may be within reach.
Tehran says it is ready to address any possible concern over its nuclear program, which it stresses is for purely civilian purposes, but adds that it will not negotiate over its inalienable rights.
On Saturday, Iranian Foreign Minister Mohammad Javad Zarif said Iran would reject demands that fail to recognize the country's rights in the course of the nuclear negotiations with the sextet.
"We are not prepared to commit to any (deal) that damages Iran's rights and interests," he said, adding that "in any agreement, enrichment in Iran will not be suspended."