Pakistani Drone Protesters Block NATO Supplies
TEHRAN (Tasnim) – Thousands of people protesting US drone strikes blocked a road in northwest Pakistan on Saturday used to truck NATO troop supplies and equipment in and out of Afghanistan, the latest sign of rising tension caused by the attacks.
November, 23, 2013 - 18:14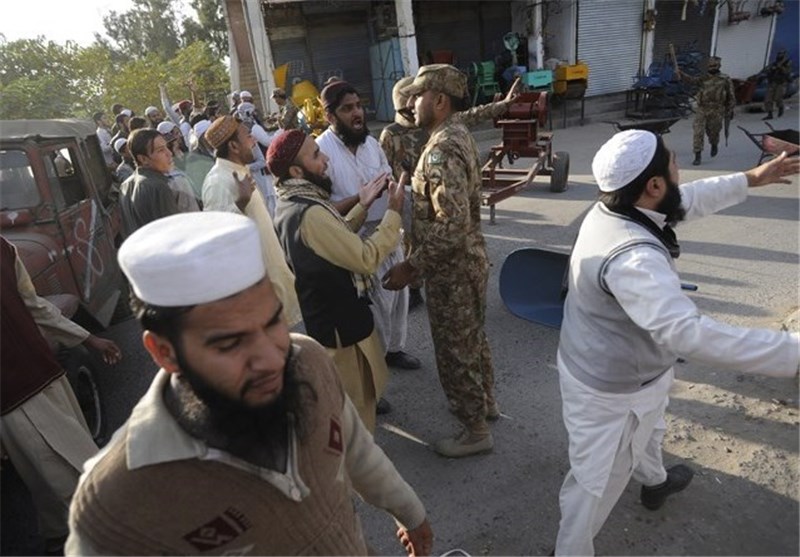 Khan, whose Tehreek-e-Insaf party runs the Khyber Pakhtunkhwa government, called on federal officials to take a firmer stance to force the US to end drone attacks and block NATO supplies across the country.
"We will put pressure on America, and our protest will continue if drone attacks are not stopped," Khan told the protesters, who dispersed after his speech.
The US Embassy in Islamabad declined to comment on the protest. The US leads the coalition of NATO troops battling the Taliban in Afghanistan, AP reported.
Drone strikes have been a growing source of friction between Islamabad and Washington. Khan and other officials regularly denounce the attacks as a violation of Pakistan's sovereignty, although the country's government is known to have supported some of the strikes in the past. The tension has further complicated a relationship that Washington views as vital to fight al-Qaida and the Taliban, as well as negotiate peace in Afghanistan.
The protest comes only two days after a rare US drone strike outside of Pakistan's remote tribal region killed five people, including at least three Afghan militants, at an Islamic seminary in Khyber Pakhtunkhwa.
The attack outraged Pakistani officials, as did one on Nov. 1 that killed the former leader of the Pakistani Taliban, Hakimullah Mehsud, a day before the Pakistani government said it was going to invite him to hold peace talks.