Zarif Optimistic about Increased Cooperation within ECO
TEHRAN (Tasnim) – Iranian Foreign Minister Mohammad Javad Zarif expressed hope on Tuesday that increased interactions within the Economic Cooperation Organization (ECO) could bolster the regional organization and bring welfare and prosperity for member states.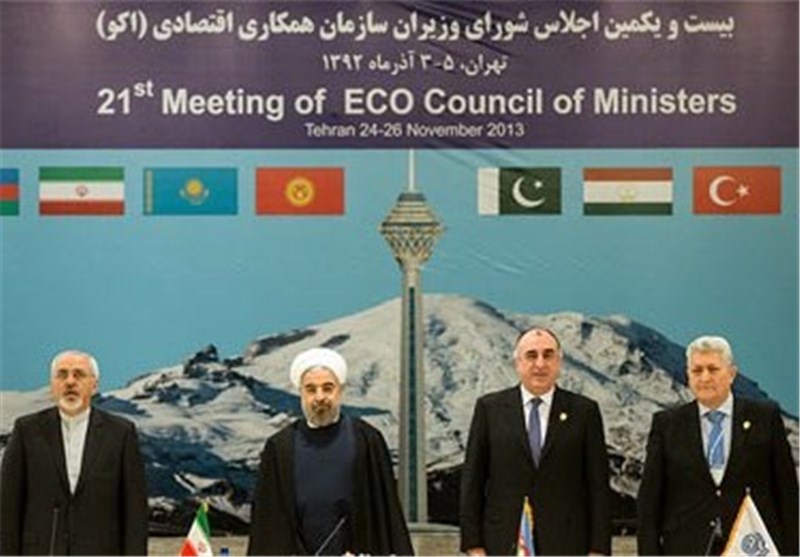 Zarif who attended an ECO ministerial meeting said that during the 1990s the ECO became a huge organization with diverse capabilities, and that it can build on those capacities to chart its futur course to usher in prosperity and welfare for the member nations.
ECO is an intergovernmental regional organization established in 1985 by Iran, Pakistan and Turkey for the purpose of promoting economic, technical and cultural cooperation among member states.
The organization was expanded in 1992 to include seven new members, namely Afghanistan, Republic of Azerbaijan, Kazakhstan, Kyrgyzstan, Tajikistan, Turkmenistan and Uzbekistan. It became a UN observer in 1993 and an observer at the Organization of Islamic Cooperation in 1994.
The top Iranian diplomat cited transportations, banking and insurance services as the main areas of cooperation for the ECO member countries, expressing hope that Iran could help consolidate the organization during its one-year rotating chairmanship.
ECO provides its members with a platform to discuss ways of improving economic development, and promoting trade and investment opportunities.
The 21st Meeting of the Council of Ministers (COM) of the Economic Cooperation Organization (ECO) kicked off in the Iranian capital on Tuesday.
During the opening ceremony, Iran's Foreign Minister Mohammad Javad Zarif took over the chairmanship of the ECO Council of Ministers from his Azerbaijani counterpart Elmar Mammadyarov.
Meanwhile, President Hassan Rouhani described the ECO a big opportunity for the regional and member countries, saying that the organization needs certain reform measures at the beginning of the third decade of cooperation.
According to the president's official website, Rouhani expressed optimism about the future of the Economic Cooperation Organization, and said ECO should undergo some reforms to provide the needs of the regional and member states.
"I hope to witness extensive regional cooperation and increased welfare and happiness for the member states in light of reforms in ECO in the near future and by taking a look at future horizons," Rouhani added.
He added that the ECO members have made major achievements during the period in the fields of energy, industry, agriculture, mining, environment, banking, technology and science, education and transportation.
However, the president noted, further progresses should be made in the field of regional cooperation with ECO members.
"Iran welcomes expansion of cooperation within this organization (ECO) as the best framework for the region's cooperation, and is determined to keep up its supports," he pointed out.