Thailand: Arrest Warrant for Protest Leader
TEHRAN (Tasnim) - A Thai court issued an arrest warrant for anti-government protest leader Suthep Thaugsuban for "insurrection" over his attempt to bring down the administration.
December, 02, 2013 - 18:31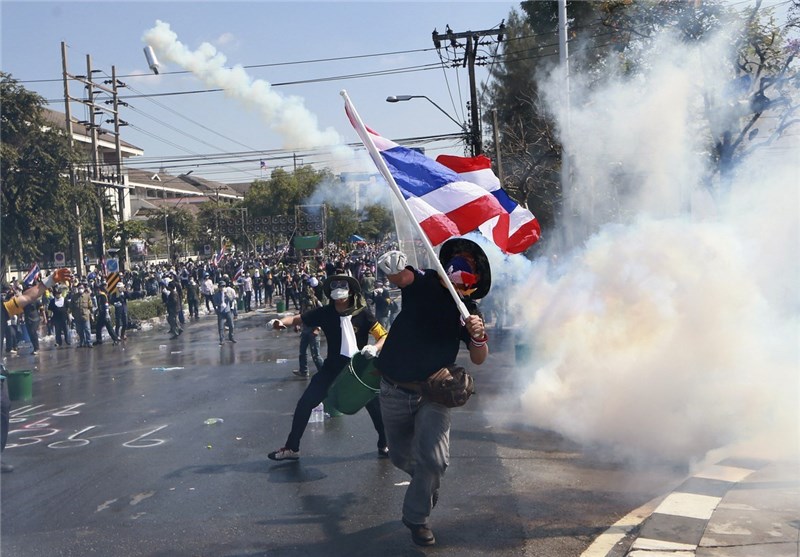 The charge of insurrection is punishable by "death or life imprisonment", a senior police officer said in a televised statement.
The move came as two demonstrators were shot and wounded in the capital Bangkok amid growing tensions, Sky News reported.
The hospital treating the injured protesters said one was hit in the chest and the other in the leg.
"Altogether we received seven injured people," the hospital's director, Surasak Lila-udomlipi, added.
Earlier Prime Minister Yingluck Shinawatra said police would not use force against demonstrators trying to gain entry to government buildings including her own offices.
But shortly afterwards Thailand's security chief revealed officers were "alternating between the use of water cannons, teargas and rubber bullets" to contain the protesters.
Paradorn Pattanathabutr added: "Rubber bullets are being used in one area only and that is the bridge near Government House."
Protesters are attempting to overthrow the government, which they claim is corrupt, and replace it with a 'People's Council'.
Ms Yingluck rejected their demands in a televised address.
"Anything I can do to make people happy, I am willing to do ... but as prime minister what I can do must be under the constitution," she said.
Ms Yingluck was speaking for the first time since violence broke out on Saturday after weeks of peaceful protest.
On Sunday, Mr Suthep gave her two days to stand down. Now he faces arrest.
Speaking after the pair met for talks, he said: "I told Yingluck that if police put down their weapons, we will welcome them as they are also Thai.
"I told Yingluck that this will be our only meeting and we will not meet again until the people win."
He said the meeting was arranged by the military, which has appeared reluctant to intervene in the current standoff.
The protests are the latest twist in a conflict between Bangkok's middle class and royalist elite and the mostly poor, rural supporters of Ms Yingluck and her brother, Thaksin Shinawatra.
The billionaire businessman was prime minister until he was ousted in a military coup in 2006 and now lives in self-imposed exile.
Thailand has seen 18 actual or attempted coups since 1932.