Rouhani Calls for Closer Iran-Iraq Cooperation
December, 05, 2013 - 18:02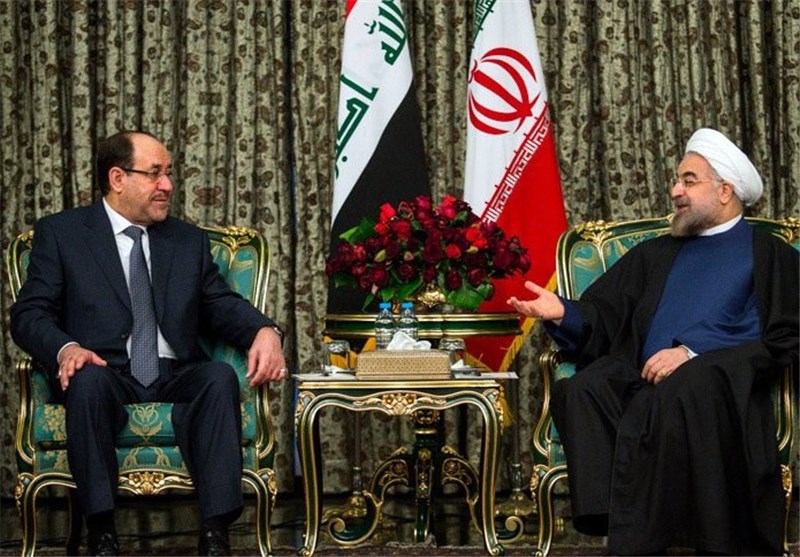 TEHRAN (Tasnim) – Iranian President Hassan Rouhani said Tehran and Baghdad need to give a boost to bilateral cooperation in line with the interests of both nations, and as a way to contribute to peace and security in the region.
"We consider ties with Iraq as strategic and do our best to prepare the ground for long-term development of bilateral relations in all fields, especially in economic and infrastructural spheres," said President Rouhani in a meeting with Iraqi Prime Minister Nouri al-Maleki in Tehran on Thursday.
Rouhani also hailed the "effective steps taken by both sides" to implement the 1975 Algiers Accord, saying attention needs to be focused on the economic aspects of that agreement for the welfare of people in both countries - particularly for those in southern areas along the shared border.
The 1975 Algiers Agreement, also known as the Algiers Accord, was an agreement between Iran and Iraq to settle their border disputes, and served as basis for the bilateral treaties signed on June 13 and 26 December 1975.
Elsewhere in the meeting, Rouhani called for further bilateral cooperation in environmental field, particularly ways of containing spread of dust storms originating from Iraqi deserts.
"We need to further develop our environmental cooperation, and given the importance we attach to the health and well-being of citizens of both countries, tackling the dust storms should top the list of common measures of both sides," President Rouhani added.
Turning to the regional issues including Syria's crisis, the president said the international conference on Syria to be held in Geneva should focus on the full exit of terrorists from Syria and preparing the ground for holding free elections in that country.
"Our joint responsibility is to defend the principles and demands of the Syrian nation in all international conferences, particularly in the Geneva 2," he said.
For his part, Maleki felicitated President Rouhani on a nuclear deal reached between Iran and G5+1 late last month in Geneva, saying through the efforts of the new Iranian administration could lead to the resolution of many regional problems.
on bilateral ties, the Iraqi premier said his country is willing to improve economic relations with Iran and remove any obstacles in the way of their expansion.