Unpaid Workers in Qatar Running Low on Food
December, 18, 2013 - 15:18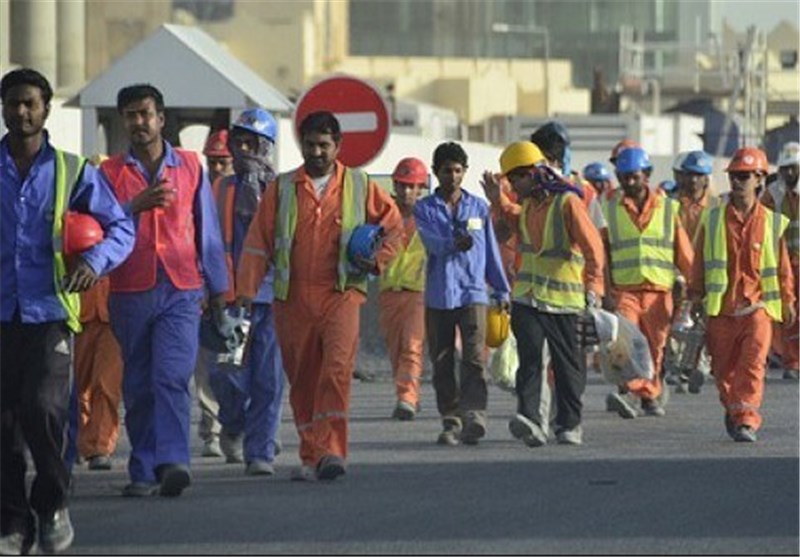 TEHRAN (Tasnim) - Migrants who have worked for nearly a year without pay on a Qatar skyscraper are facing "severe food shortages" and cannot leave or seek other employment, Amnesty International said Wednesday.
Qatar has come under mounting criticism from rights groups, particularly after being chosen to host the 2022 World Cup, which has spotlighted the conditions of migrant workers in the gas-rich monarchy's booming construction industry, AFP reported.
Amnesty urged Qatari authorities to address the plight of 80 migrant workers, mostly from Nepal, who are working for the Lee Trading and Contracting (LTC) company, saying they are "working in conditions that may amount to forced labor."
"They have not been paid for nearly a year and can't even buy food to sustain themselves on a day-to-day basis. They also can't afford to send money back home to their families or to pay off debts," said Salil Shetty, secretary general of Amnesty International.
The group includes around 60 Nepalese workers as well as others from Sri Lanka, the Philippines, Nigeria, China and Bangladesh.
They have been working on floors 38 and 39 of Doha's Al-Bidda Tower, known as "Qatar's Home of Football" because a number of sports organizations have offices there, Amnesty said.
Amnesty said it had seen documentation showing LTC owes the workers around 1.5 million riyals ($412,000, 300,000 euros) for the work, which was completed in October.