Erdogan Says Corruption Probe Aims to Smear Gov't
December, 19, 2013 - 12:43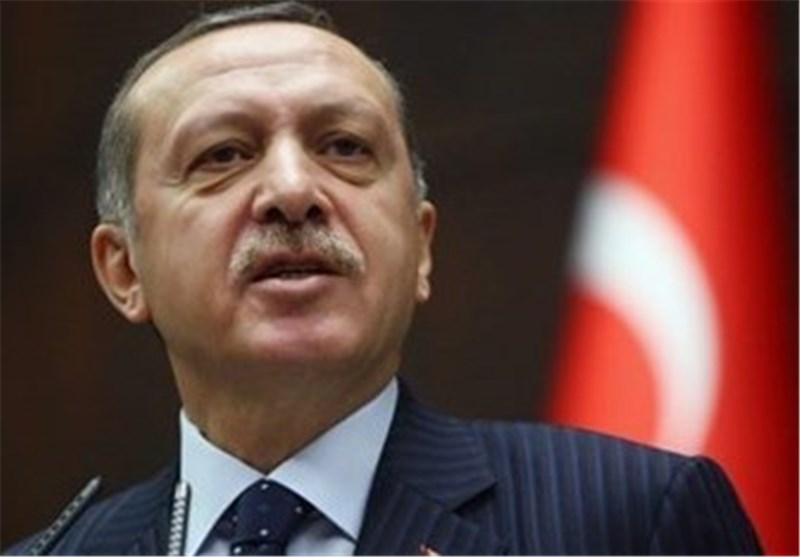 TEHRAN (Tasnim) - Turkey's Prime Minister Tayyip denounced a corruption crackdown on his allies months ahead of elections as a "dirty operation" to smear his administration and undermine the country's progress.
He said on Wednesday that those behind the investigation were trying to form a "state within a state", an apparent reference to the movement of US-based Turkish cleric Fethullah Gulen, whose followers are influential in Turkey's police and judiciary.
A total of 52 people, including three ministers' sons, prominent businessmen close to Erdogan and local government officials, were detained on Tuesday in the country's biggest corruption probe since Erdogan swept to power in 2002.
"As we fight to make Turkey in the top 10 countries of the world ... some are engaged in an effort to halt our fast growth. There are those abroad ... and there are extensions of them within our country," Erdogan told a news conference.
"Right now a very dirty operation is going on."
Several dozen senior police officers, including the heads of the financial crime, organized crime and smuggling units in Istanbul and at least 18 others in Ankara, were removed from their posts following the detentions, local media said.
Edrogan said officers had been removed for abuse of office and warned more could follow in other cities.
Tensions have grown in recent months between Erdogan's government and Gulen's Hizmet (Service) movement over plans to close private schools which prepare teens for competitive high school and university entrance exams, some run by Hizmet.
The schools, part of a global education network, are an important source of revenue and influence for Gulen's movement, creating a web of contacts and personal loyalties among a religious-minded elite in Turkey and abroad.
A lawyer for Gulen denied he had any hand in the probe, Reuters reported.
"The honorable Gulen has nothing to do with and has no information about the investigations or the public officials running them," Orhan Erdemli said in a statement published by Turkish media outlets.
Erdogan drew parallels with weeks of violent anti-government protests over the summer, which grew out of a demonstration against plans to redevelop Istanbul's Gezi Park. Riot police clashed night after night with demonstrators protesting against what they said was Erdogan's growing authoritarianism.
"There is a process that started with the Gezi incidents. They could not get what they wanted there and now they have taken a new step," Erdogan said.
Representatives of Hizmet have always denied being behind June's protests but tacitly chided Erdogan, who dismissed the protesters as "riff-raff", throwing their weight instead behind more conciliatory voices in his AK Party.